Bring Back Our Girls: The Untold Story of the Global Search for Nigeria's Missing Schoolgirls (Paperback)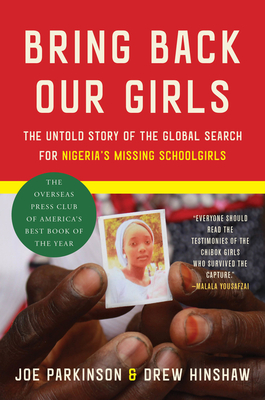 Description
---
A 2021 Daily Telegraph Book of the Year
Winner of the Overseas Press Club of America's Cornelius Ryan Award
"Everyone should read the testimonies of the Chibok girls who survived the capture. We need to help with efforts to liberate all of them and become more responsible for women and girls' protection in conflicts." — Malala Yousafzai
What happens after you click Tweet? The heart-stopping definitive account of the mission to rescue hundreds of Nigerian schoolgirls whose abduction ignited a global social media campaign and a dramatic worldwide intervention. 
In the spring of 2014, millions of Twitter users, including some of the world's most famous people, unwittingly helped turn a group of 276 schoolgirls abducted by a little-known Islamist sect into a central prize in the global War on Terror by retweeting a call for their release: #BringBackOurGirls. With just four words, their tweets launched an army of would-be liberators. Soldiers and drones, spies, mercenaries, and glory hunters descended into an obscure conflict that few understood, in a remote part of Nigeria that had barely begun to use the internet. 
When hostage talks and military intervention failed, the schoolgirls were forced to take survival into their own hands. As their days in captivity dragged into years, the young women learned to withstand hunger, disease, and torment, and became witnesses and victims of unspeakable brutality. Many of the girls were Christians who refused to take the one path offered them—converting to their captors' fundamentalist creed. In secret, they sang hymns, and kept a diary, relying on their faith and friendships to stay alive.
Bring Back Our Girls unfolds across four continents, from the remote forests of northern Nigeria to the White House; from clandestine meetings in Khartoum safe houses to century-old luxury hotels on picturesque lakes in the Swiss Alps. A twenty-first century story that plumbs the promise and peril of an era whose politics are fueled by the power of hashtag advocacy, this urgent and engrossing work of investigative journalism reveals the unpredictable interconnectedness of our butterfly-wings world, where a few days of online activism can bring years of offline consequences for people continents away.
About the Author
---
Joe Parkinson is the Africa Bureau Chief for the Wall Street Journal and a Pulitzer Prize finalist currently based in Johannesburg. One of the Journal's most seasoned foreign correspondents, he has reported from more than forty countries, and his work has won numerous inter national awards.  
Drew Hinshaw, a senior reporter for the Wall Street Journal, spent a decade covering West Africa, where his work was nominated several times for the Pulitzer Prize. He has also written for the New York Times Magazine, Time, Al Jazeera, the Atlantic and Rolling Stone.
Praise For…
---
"Everyone should read the testimonies of the Chibok girls who survived the capture. We need to help with efforts to liberate all of them and become more responsible for women and girls' protection in conflicts."  — Malala Yousafzai
"It's a really fascinating read, gripping as it's certainly been described, and the humanity of the girls that's brought to bear is really interesting, really, really interesting . . . It is really a remarkable story. It is an amazing story." — Christiane Amanpour
"Phew. It is fascinating and gripping."  — Archbishop Desmond Tutu
"This intimate and riveting account demonstrates the power of sustained international pressure in the name of human rights. Most importantly, it serves as a testament to the strength of the Chibok girls who resisted their captors and bravely asserted their humanity in the face of violent subjugation." — Nadia Murad, recipient of the 2018 Nobel Peace Prize 
"This account of the kidnapping of the Chibok schoolgirls and their courage and fortitude through the unspeakable brutality of their captivity is a nail-biter about survival told with Hitchcockian flair. Packed with their personal testimonies, along with fresh details of the hunt for them by a team of Swiss negotiators, Joe Parkinson and Drew Hinshaw have written a work of brilliant journalism." — Lesley Stahl, correspondent, 60 Minutes
"Bring Back Our Girls is a journalistic masterclass: a detailed and compelling story of the unsung heroes who won the release of Nigeria's schoolgirls after the social media circus had moved on." — Tom Wright, New York Times bestselling coauthor of Billion Dollar Whale
"With this book, Parkinson and Hinshaw remind us why tenacious investigative journalism—and not reporting triggered by Twitteris so essential to democracy. It's a most readable recounting of the immense passion and years of painstaking work that it took to return these kidnapped young girls to their mothers."  — Seymour Hersh, Pulitzer-prize winning investigative reporter
"Dramatic and detailed . . . This is a brilliant work of investigative journalism that supplies all the missing puzzle pieces, uncovering for the first time intimate and crucial details about the girls' time in Sambisa forest, and the brave men and women in Abuja and around the world who sacrificed so much to bring them back to their parents." — Helon Habila, Commonwealth Writers Prize and Caine Prize winning novelist
"Gripping." — NPR
"Extraordinary . . . A page-turner of a narrative." — Washington Post
"Illuminating . . . remarkable and humanizing." — Financial Times
"A riveting chronicle of the 2014 kidnapping of a group of Nigerian schoolgirls by the terrorist group Boko Haram . . . . Written with compassion and insight, this deeply investigated account brings renewed attention to an ongoing tragedy." — Publishers Weekly
"In light of the proliferation of hashtag activism by individuals and corporations following the Black Lives Matter protests in 2020, this exploration of the unintended impact of social media activism is both poignant and relevant." — Kirkus Reviews
"Using diaries kept, at great risk, by two of the girls, [Parkinson and Hinshaw] offer insight into the incredible courage and faith the captives maintained while they endured more than three years of captivity. . . . Readers wishing to learn more about the Chibok girls beyond headlines and viral hashtags, as well as those looking for a better understanding of international relations, will be rewarded in this moving book." — Library Journal
"A brilliant investigation." — Sunday Times (London)
"What the influencers who endorsed #BringBackOurGirls might do, though, is encourage their followers to read this finely written, absorbing book. Not only does it chart how the celebrity Twittersphere impacted one of the poorest corners of the planet, it does the far knottier reporting job of revealing what went on backstage, be it in the Nigerian and US governments, or the minds of Boko Haram commanders." — Telegraph (UK)
"It is difficult to imagine a more thorough and significant piece of reportage, for our troubled world, than this new book." — The Scotsman (Scotland)
"Bring Back Our Girls has a cinematic quality to it, and sometimes feels like it was written in the mold of a Hollywood script. There is no doubt that it has all the elements of a powerful film, and at times I had to put the book down to remind myself that the events I was reading were indeed real." — Tablet magazine