Transcend: The New Science of Self-Actualization (Paperback)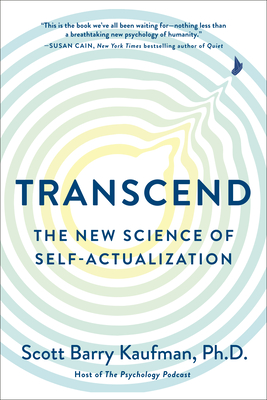 $18.00

At Distributor - We Can Usually Get It in 3-8 Days!
Description
---
A bold reimagining of Maslow's famous hierarchy of needs--and new insights for realizing your full potential and living your most creative, fulfilled, and connected life.

When psychologist Scott Barry Kaufman first discovered Maslow's unfinished theory of transcendence, sprinkled throughout a cache of unpublished journals, lectures, and essays, he felt a deep resonance with his own work and life. In this groundbreaking book, Kaufman picks up where Maslow left off, unraveling the mysteries of his unfinished theory, and integrating these ideas with the latest research on attachment, connection, creativity, love, purpose and other building blocks of a life well lived.

Kaufman's new hierarchy of needs provides a roadmap for finding purpose and fulfillment--not by striving for money, success, or "happiness," but by becoming the best version of ourselves, or what Maslow called self-actualization. While self-actualization is often thought of as a purely individual pursuit, Maslow believed that the full realization of potential requires a merging between self and the world. We don't have to choose either self-development or self-sacrifice, but at the highest level of human potential we show a deep integration of both. Transcend reveals this level of human potential that connects us not only to our highest creative potential, but also to one another.

With never-before-published insights and new research findings, along with exercises and opportunities to gain insight into your own unique personality, this empowering book is a manual for self-analysis and nurturing a deeper connection not only with our highest potential but also with the rest of humanity.
About the Author
---
Scott Barry Kaufman, PhD is a humanistic psychologist who has taught at Columbia University, the University of Pennsylvania, NYU and elsewhere. He received his Ph.D. in cognitive psychology from Yale University, and an M.Phil in experimental psychology from the University of Cambridge under a Gates Cambridge Scholarship. He writes the column Beautiful Minds for Scientific American and hosts The Psychology Podcast, which has received more than 10 million downloads. His writing has appeared in The Atlantic and Harvard Business Review, and his books include Ungifted, Wired to Create (with Carolyn Gregoire), and, as editor, Twice Exceptional and, as co-editor, The Cambridge Handbook of Intelligence. In 2015, he was named one of "50 Groundbreaking Scientists who are changing the way we see the world" by Business Insider.
Praise For…
---
"What a masterpiece! Maslow 2.0—a must-read for anyone who wants to understand what Maslow meant by self-transcendence. Part biography, part treatise, part how-to guide . . . I loved it!"
—Angela Duckworth, professor of psychology, University of Pennsylvania; CEO and founder of Character Lab; and New York Times–bestselling author of Grit
 
"This is the book we've all been waiting for—nothing less than a breathtaking new psy­chology of humanity. Kaufman will show you how to live your life to the fullest, and in the service of others—all at the same time."
—Susan Cain, New York Times–bestselling author of Quiet
 
"The concept of self-actualization and the transcendent values, which include justice, beauty, meaningfulness, and wholeness, provide a blueprint for a better world. This very well-written volume not only captures Maslow's work but infuses it with the spirit of inspiration. This book is a major advance in psychology."
—Aaron T. Beck, M.D., professor emeritus of psychiatry, University of Pennsylvania
 
"As a pioneer of humanistic psychology, Maslow is frequently referenced but rarely un­derstood. Scott Barry Kaufman is here to change that. He does a first-rate job restoring the classic pyramid based on Maslow's own revisions and updating self-actualization in light of contemporary science."
—Adam Grant, New York Times–bestselling author of Originals and Give and Take, and host of the WorkLife podcast
 
"In this book Kaufman studies the legacy of Abraham Maslow's life's work in humanistic psychology and expands on this with his own insights and studies. The book gives us a path to self-actualization, to becoming the best person we can possibly become. In the process we discover we do this connected to others and all reality."
—Sharon Salzberg, author of Lovingkindness and Real Happiness
 
"Transcend is rich, deep, and brilliant, a pleasure to read. Scott Barry Kaufman is the new generation's leading voice in humanistic psychology, a modern-day Abraham Maslow. Updating Maslow's hierarchy of needs with modern psychology research, Transcend will help readers embark upon a journey to the upper reaches of their potential."
—Emily Esfahani Smith, author of The Power of Meaning
 
"This splendid book is a twofer. It's a retelling of the life of Abraham Maslow woven through an insightful updating of Maslow's theory."
—Martin Seligman, director, Positive Psychology Center, University of Pennsylvania, and author of The Hope Circuit
 
"Transcend is a wonderful revival and update of a beloved classic psychological model, as well as a loving ode to its originator. A brilliant assemblage of our current understand­ing of psychological well-being."
—Mark Manson, New York Times–bestselling author of The Subtle Art of Not Giving a F*ck
 
"Mastery in whatever field is an important goal to aspire to, but in these times, when people are experiencing depression and emptiness at an epidemic level, transcendence is an even more critical goal. Scott Barry Kaufman manages to integrate more than seventy-five years of research on the subject to show that the only way to fully self-actualize is, paradoxically, by getting outside of one's self. This is one of the best books on human potential I've ever read."
—Robert Greene, author of The Laws of Human Nature
 
"In this ambitious work, Scott Barry Kaufman not only excavates the unfinished ele­ments of Maslow's famous hierarchy of needs, but updates and extends it with the latest science. Transcend is a compass for a life well lived."
—David Epstein, New York Times–bestselling author of Range
 
"Scott Barry Kaufman is one of my favorite thinkers about the psychology of getting better and growing as a person."
—Ryan Holiday, New York Times–bestselling author of Stillness Is the Key
 
"Both personal and universal, deep and engaging, easy to follow and mind-shifting, Transcend gives us a new understanding of Maslow's famous self-actualization model and shows us how we can all achieve the kind of life we aspire to."
—Lori Gottlieb, New York Times–bestselling author of Maybe You Should Talk to Someone
 
"In an age focused on materialism and self-obsession, Kaufman boldly addresses the sci­ence of our deepest, most unanswered needs: connection, meaning, love, transcendence, and self-realization. A revolutionary book destined to become a classic."
—Emma Seppälä, Ph.D., author of The Happiness Track, and science director, Center for Compassion and Altruism Research and Education, Stanford University
 
"Many of the substantive issues humanistic psychology fought for in the middle part of the last century are now at the very core of modern psychology, regardless of your ap­proach or orientation. It is especially timely to revisit the work of one of the greatest humanists of all time, Abraham Maslow, and to update his insights based on the half a century of data that have accumulated since his death. Scott Barry Kaufman has done just that in this wide-ranging and delightful book."
—Steven C. Hayes, codeveloper of acceptance and commitment therapy and author of A Liberated Mind
 
"In this wise, creative, surprising, and exceedingly humane book, Scott Barry Kaufman provides a hierarchy of needs for the modern world, blending the insights of humanistic psychology with the finding of cutting-edge science."
—Paul Bloom, Brooks and Suzanne Ragen Professor of Psychology, Yale University, and author of Against Empathy
 
"Scott Barry Kaufman revivifies the wisdom of humanistic psychology for a new millen­nium. He does it with evidence and discernment, without turning the world into a nail."
—Steven Pinker, professor of psychology, Harvard University, and New York Times–bestselling author of Enlightenment Now
 
"Synthesizing Maslow's wisdom with modern research, Scott Barry Kaufman takes our understanding of the good life to higher planes. Maslow would have been proud!"
—Tal Ben-Shahar, cofounder of the Happiness Studies Academy
 
"There are many books about happiness. There are fewer about living a good life—not a fixed state of being, but an ongoing process that encourages creativity, challenge, and meaning. Transcend is such a book: original, grounded in modern research, and thor­oughly practical."
—Sean Carroll, author of Something Deeply Hidden: Quantum Worlds and the Emergence of Spacetime
 
"Drawing on a vast range of source material, Kaufman has singlehandedly helped to reposition Maslow and humanistic psychology from the periphery to the center of mainstream psychological inquiry. A scientifically grounded, splendidly accessible road map for the spiritual and philosophical uplift of our field."
—Kirk Schneider, Ph.D., author of The Spirituality of Awe
 
"Reading Transcend would bring a broad smile to Maslow's face and maybe even a shout of 'Someone finally gets it.' Often he spoke in our seminars at Brandeis of his frustration that so few understood his work. Scott Barry Kaufman not only shows a rare and pro­found understanding of Maslow's ideas but, for the first time in fifty years, expands our knowledge of Maslow's core concepts. This book is worthy of being in every thinking person's library and being read more than once."
—L. Ari Kopolow, M.D., clinical assistant professor of psychiatry, George Washington University; president emeritus, Suburban Maryland Psychiatric Society; and former student of Abraham Maslow
 
"This is one of the most comprehensive books on what psychology has to say about the path to personal fulfillment. I walked away with a new, sophisticated lens for viewing the motivations behind my actions. I suspect readers will be equally enlightened."
—Todd B. Kashdan, Ph.D., professor of psychology, George Mason University, and author of The Upside of Your Dark Side"
 
"With wisdom from many fields, and paths and principles to live, this book will enable you to rise to the greatest challenge of our times: to arrive at a new sense of ourselves that is kinder, more inclusive, and oriented to creating a better world. This is a pro­foundly important and timely book."
—Dacher Keltner, professor of psychology, University of California, Berkeley