The Fortunes of Liberalism: Essays on Austrian Economics and the Ideal of Freedom (The Collected Works of F. A. Hayek #4) (Paperback)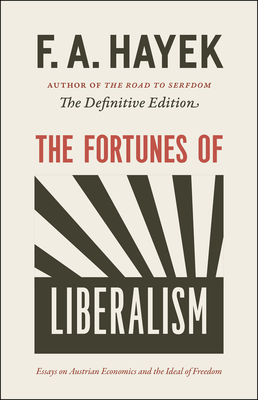 $40.80

At Distributor - We Can Usually Get It in 3-8 Days!
Other Books in Series
This is book number 4 in the The Collected Works of F. A. Hayek series.
Description
---
The Reagan and Thatcher "revolutions." The collapse of  Eastern Europe dramatically captured in the tearing down of  the Berlin Wall. F. A. Hayek, "grand old man of capitalism" and founder of the classical liberal, free-market revival which ignited and inspired these world events, forcefully predicted their occurrence in writings such as The Road to Serfdom, first published in 1944.

Hayek's well-known social and political philosophy—in particular his long-held pessimistic view of the prospects of socialism, irrefutably vindicated by the recent collapse of the Eastern bloc—is fully grounded in the Austrian approach to economics. In this new collection, Hayek traces his intellectual roots to the Austrian school, the century-old tradition founded at the University of Vienna by Carl Menger, and links it to the modern rebirth of classical liberal or libertarian thought.

As Hayek reminds us, the cornerstone of modern economics—the theory of value and price—"represents a consistent continuation of the fundamental principles handed down by the Vienna school." Here, in this first modern collection of essays on the Austrian school by one of its preeminent figures, is the genesis of this tradition and its place in intellectual history.

Reflections on Hayek's days as a young economic theorist in Vienna, his opening address to the inaugural meeting of the Mont Pèlerin Society, and essays on former teachers and other leading figures in the Austrian school are included in volume 4. Two hitherto unavailable memoirs, "The Economics of the 1920s as Seen from Vienna," published here for the first time, and "The Rediscovery of Freedom: Personal Recollections," available for the first time in English, make this collection invaluable for Hayek scholars.

Hayek's writings continue to provide an invaluable education in a subject which is nothing less than the development of the modern world.
About the Author
---
F. A. Hayek (1899–1992), recipient of the Presidential Medal of Freedom in 1991 and co-winner of the Nobel Prize in Economics in 1974, was a pioneer in monetary theory and a leading proponent of classical liberalism in the twentieth century. He taught at the University of Vienna, University of London, University of Chicago, and University of Freiburg.