Murder in Old Kentucky: True Crime Stories from the Bluegrass (Paperback)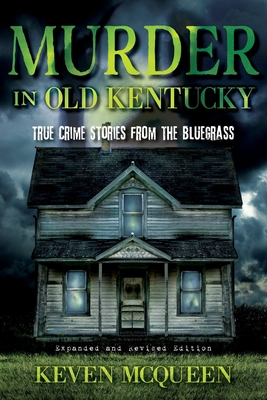 $19.00

At Distributor - We Can Usually Get It in 3-8 Days!
Description
---
Kentucky--land of bluegrass, horse racing, bourbon, and . . . murder.

In Murder in Old Kentucky: True Crime Stories from the Bluegrass, Keven McQueen recounts dark and disturbing tales from the pages of Kentucky history, including the 1825 murder of Col. Solomon Sharp--a sordid affair that inspired Edgar Allan Poe and Robert Penn Warren--and the 1881 Ashland Tragedy, a heartbreaking murder of three innocent teenagers. This revised and expanded edition includes the story of a family terrorized by an arsonist who massacred eleven of their members and burned the property of even more, the tale of a husband and wife found shot in each other's arms with a life-sized photo of another man between them, and many more deaths that made headlines.

Meticulously researched and written with McQueen's trademark humor, Murder in Old Kentucky will captivate any fan of true crime or Kentucky history.
About the Author
---
Keven McQueen is author of 20 books covering American history, the supernatural, biography, historical true crime, and what he calls real-life surrealism. His books include Horror in the Heartland: Strange and Gothic Tales from the Midwest, Creepy California: Strange and Gothic Tales from the Golden State, Weird Wild West: True Tales of the Strange and Gothic, and New England Nightmares: True Tales of the Strange and Gothic. His work has been anthologized by the Jesse Stuart Foundation and Texas Christian University Press. He has guested on radio shows and podcasts including Darkness Radio, 30 Odd Minutes, Paranormal View, Controversial TV, Most Notorious, Thorne and Cross Haunted Nights Live, Mind's Eye, Still Unsolved, and Fringe Radio. Recently, his books have been mentioned in articles in the New York Times and on the Daily Beast/Yahoo News. McQueen is a senior lecturer in English at Eastern Kentucky University in Richmond.