Fresh Pond: The History of a Cambridge Landscape (Hardcover)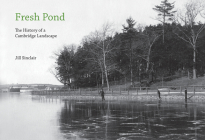 $35.00

In Stock - Please Allow Processing Time
Description
---
The history of Fresh Pond Reservation—onetime summer retreat for wealthy Bostonians, center of the nineteenth-century ice industry, and stomping grounds for Harvard students—told through photographs, maps and plans, and stories.
Fresh Pond Reservation, at the northwest edge of Cambridge, Massachusetts, has been described as a "landscape loved to death." Certainly it is a landscape that has been changed by its various uses over the years and one to which Cantabridgeans and Bostonians have felt an intense attachment. Henry James returned to it in his sixties, looking for "some echo of the dreams of youth," feeling keenly "the pleasure of memory"; a Harvard student of the 1850s fondly remembered skating parties and the chance of "flirtation with some fair-ankled beauty of breezy Boston"; modern residents argue fiercely over dogs being allowed to run free at the reservation and whether soccer or nature is a more valuable experience for Cambridge schoolchildren.
In Fresh Pond, Jill Sinclair tells the story of the pond and its surrounding land through photographs, drawings, maps, plans, and an engaging narrative of the pond's geological, historical, and political ecology. Fresh Pond has been a Native American hunting and fishing ground; the site of an eighteenth-century hotel offering bowling, food and wine, and impromptu performances by Harvard men; a summer retreat for wealthy Bostonians; a training ground for trench warfare; a location for picnics and festivals for workers and sporting activities for all. The parkland features an Olmsted design, albeit an imperfectly realized one. The pond itself—a natural lake carved out by the retreating Ice Age about 15,000 years ago—was a center of the nineteenth-century ice industry (disparaged by Thoreau, writing about another pond), and still supplies the city of Cambridge with fresh drinking water.
Sinclair's celebration of a local landscape also alerts us to broader issues—shifts in public attitudes toward nature (is it brutal wilderness or in need of protection?) and water (precious commodity or limitless flow?)—that resonate as we remake our relationship to the landscape.
About the Author
---
Jill Sinclair is a landscape historian, writer, and lecturer now living in Paris.