Swing (Paperback)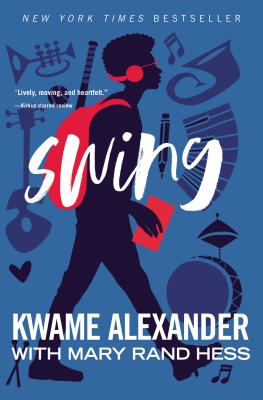 $14.99

Special Order - Arrival Times Vary
Description
---
In this YA novel in verse from bestselling authors Kwame Alexander and Mary Rand Hess (Solo), which Kirkus called "lively, moving, and heartfelt" in a starred review, Noah and Walt just want to leave their geek days behind and find "cool," but in the process discover a lot about first loves, friendship, and embracing life . . . as well as why Black Lives Matter is so important for all.
Best friends Noah and Walt are far from popular, but Walt is convinced junior year is their year, and he has a plan that includes wooing the girls of their dreams and becoming amazing athletes. Never mind he and Noah failed to make their baseball team yet again, and Noah's crush since third grade, Sam, has him firmly in the friend zone. While Walt focuses on his program of jazz, podcasts, batting cages, and a "Hug Life" mentality, Noah feels stuck in status quo … until he stumbles on a stash of old love letters. Each one contains words Noah's always wanted to say to Sam, and he begins secretly creating artwork using the lines that speak his heart. But when his art becomes public, Noah has a decision to make: continue his life in the dugout and possibly lose the girl forever, or take a swing and finally speak out.
At the same time, American flags are being left around town. While some think it's a harmless prank and others see it as a form of protest, Noah can't shake the feeling something bigger is happening to his community. Especially after he witnesses events that hint divides and prejudices run deeper than he realized.
As the personal and social tensions increase around them, Noah and Walt must decide what is really important when it comes to love, friendship, sacrifice, and fate.
Swing:
is written by New York Times bestselling author and Newbery Medal and Coretta Scott King Award-winner Kwame Alexander
Features a diverse array of characters and perspectives
tackles the biggest social issues of today, including racial prejudice and Black Lives Matter
is perfect reading for the classroom or community-wide discussions
is a 2020 YALSA Quick Pick for Reluctant Young Adult Readers
contains original artwork tied to the story
If you enjoy Swing, check out Solo by Kwame Alexander and Mary Rand Hess.
About the Author
---
Kwame Alexander is the New York Times bestselling author of thirty-two books, including The Undefeated; How to Read a Book; How to Write a Poem; Solo; Swing; Rebound, which was shortlisted for the prestigious Carnegie Medal; and his Newbery Medal–winning middle grade novel The Crossover. He's also the founding editor of Versify, an imprint that aims to Change the World One Word at a Time. Visit him at kwamealexander.com
Mary Rand Hess is a poet, playwright, screenwriter, composer, mixed-media artist, and New York Times bestselling author of notable and award-winning books. Some of her picture books include The One and Only Wolfgang: From Pet Rescue to One Big Happy Family; Animal Ark: Celebrating Our Wild World in Poetry and Pictures; and Belong, a book near and dear to her heart. Whether she's creating for the page, stage, or screen, Mary has many stories and poems to dream up and share.
Praise For…
---
Despite the easy flow of verse, there is a density to this story with its multiple elements. Lively, moving, and heartfelt. — Kirkus Reviews (starred review)