Radio On: A Listener's Diary (Paperback)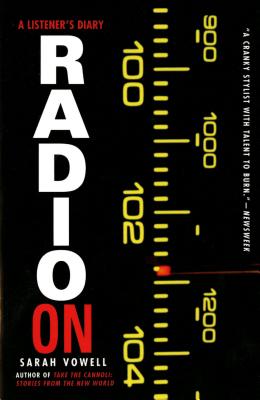 $19.99

At Distributor - We Can Usually Get It in 3-8 Days!
Description
---
There are approximately 502 million radios in America. For this savvy, far-reaching diary, celebrated journalist and author Sarah Vowell turned hers on and listened--closely, critically, creatively--for an entire year.

As a series of impressions and reflections regarding contemporary American culture, and as an extended meditation on both our media and our society, this keenly focused book is as insightful as it is refreshing.

Throughout Radio On, "Vowell's touch is about as delicate as Teddy Kennedy's after a pitcher of martinis" (Richard Roeper, Chicago Sun-Times).
About the Author
---
Called "a national treasure" by David Sedaris, Sarah Vowell has been a contributing editor to public radio's This American Life since 1996. She is also the author of the bestsellers Take the Cannoli and The Partly Cloudy Patriot.
Praise For…
---
"A cranky stylist with talent to burn." —Newsweek

"A sparky, ferociously intelligent examination of a medium that people forget about from one of the most promising young journalists I've come across recently." —Nick Hornby

"The magic really begins when you sense Vowell is absorbing radio as much as listening to it." —The Toronto Star

"She's very aware of how radio can divide and conquer" —Charles Taylor, the Boston Phoenix

"Her diary is more the coming-of-age story of a young critic, soundtrack included." —Chicago Tribune

"Radio On escapes its own insularity through its insistence on the language of desire: the wish for a country where every citizen isn't bent on seceding into his or her own Private Idaho, where it is still possible to speak and be heard." —Howard Hampton, the Village Voice

"Her comments on what she heard are illuminating and smart." —Gina Arnold, East Bay Express

"Vowell's touch is about as delicate as Teddy Kennedy's after a pitcher of martinis." —Richard Roeper, Chicago Sun-Times