A Guide to Possibility Land: Fifty-One Methods for Doing Brief, Respectful Therapy (Paperback)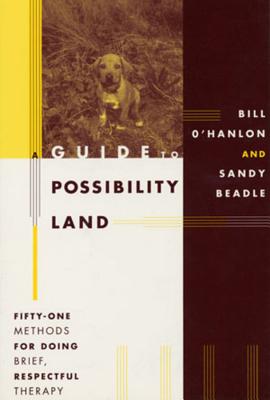 $16.95

Special Order - Arrival Times Vary
Description
---
Tested, practical methods that help people reconnect with their sense of hope and possibility.
When was the last time you read a book to improve your professional skills and had fun at the same time? For people interested in the latest developments in brief, solution-oriented therapies, and for any who want to improve their therapeutic skills without unnecessary toil,
A Guide to Possibility Land
is a terrific introduction to the territory. Possibility therapy, originated by Bill O'Hanlon, is about acknowledging and validating clients' felt experience and ideas about their lives while ensuring that possibilities for change are discovered and amplified.
A Guide to Possibility Land
outlines this humorous, compassionate approach to action-oriented therapy in a lively and accessible text. Each method is defined, explained, and illustrated, all in a page or two. By the book's end the reader is empowered with a huge selection of strategies and an enlightening map of possibility land.
About the Author
---
Sandy Beadle writes informational articles and software programs.

Bill O'Hanlon, is a founder of Possibility and Inclusive Therapies and is the author or coauthor of more than thirty books, including Out of the Blue, Becoming A Published Therapist, and Quick Steps to Resolving Trauma. He is a Diplomate, Board Member, Fellow and Master Therapist in the American Psychotherapy Association and was awarded the "Outstanding Mental Health Educator of the Year" in 2001 by the New England Educational Institute. He lives in Santa Fe, New Mexico. Visit his website for more information: BillOHanlon.com.