Infinite City: A San Francisco Atlas (Paperback)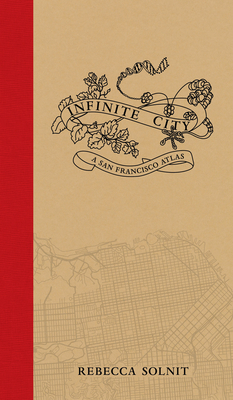 $29.95

At Distributor - We Can Usually Get It in 3-8 Days!
Description
---
What makes a place? Infinite City, Rebecca Solnit's brilliant reinvention of the traditional atlas, searches out the answer by examining the many layers of meaning in one place, the San Francisco Bay Area. Aided by artists, writers, cartographers, and twenty-two gorgeous color maps, each of which illuminates the city and its surroundings as experienced by different inhabitants, Solnit takes us on a tour that will forever change the way we think about place. She explores the area thematically—connecting, for example, Eadweard Muybridge's foundation of motion-picture technology with Alfred Hitchcock's filming of Vertigo. Across an urban grid of just seven by seven miles, she finds seemingly unlimited landmarks and treasures—butterfly habitats, queer sites, murders, World War II shipyards, blues clubs, Zen Buddhist centers. She roams the political terrain, both progressive and conservative, and details the cultural geographies of the Mission District, the culture wars of the Fillmore, the South of Market world being devoured by redevelopment, and much, much more. Breathtakingly original, this atlas of the imagination invites us to search out the layers of San Francisco that carry meaning for us—or to discover our own infinite city, be it Cleveland, Toulouse, or Shanghai.

CONTRIBUTORS:

Cartographers: Ben Pease and Shizue Seigel

Designer: Lia Tjandra

Artists: Sandow Birk, Mona Caron, Jaime Cortez, Hugh D'Andrade, Robert Dawson, Paz de la Calzada, Jim Herrington, Ira Nowinski, Alison Pebworth, Michael Rauner, Gent Sturgeon, Sunaura Taylor

Writers and researchers: Summer Brenner, Adriana Camarena, Chris Carlsson, Lisa Conrad, Guillermo Gómez-Peña, Joshua Jelly-Schapiro, Paul La Farge, Genine Lentine, Stella Lochman, Aaron Shurin, Heather Smith, Richard Walker

Additional cartography: Darin Jensen; Robin Grossinger and Ruth Askevold, San Francisco Estuary Institute
About the Author
---
Rebecca Solnit is the best-selling author of many books, including River of Shadows, for which she won the National Book Critics Circle Award, A Paradise Built in Hell, Savage Dreams (UC Press), and Storming the Gates of Paradise (UC Press).
Praise For…
---
"Inventive and affectionate."
— New York Times Book Review

"A handsome collection of thought-provoking and delightful maps that show us many takes on a city that's hidden before our eyes."
— San Francisco Chronicle

"Brilliantly disorients our native sense of place."
— San Francisco Magazine

"Places exist in our minds, perhaps more vividly than they might in the moments we physically pass through them. Our understanding of a place— and how we might emotionally map it—is informed by what we bring to it; our past, present, future; expectations, hopes and disappointments color the legend. It's this symbiosis—the relationship between memory, imagination, anticipation and reality—that Rebecca Solnit's captivating, deeply evocative collection of re-imagined maps and essays, Infinite City: A San Francisco Atlas, expertly charts."
— Los Angeles Times Book Review

"An extraordinary work."
— Guardian

"Smart and creative and perhaps even revolutionary. You'll never see San Francisco the same way again."
— Huffington Post

"A many-layered treat for any San Franciscan who thinks she knows her city."
— KQED

"A whole new kind of atlas, one with inventive maps and well-researched text that makes unexpected connections, and thereby rewrites the history and reshapes the character of this famous city and the surrounding area. . . . Solnit has expanded the definition of what a book can be and how a story can be told in a mesmerizing, revolutionary new way."
— Santa Cruz Sentinel

"A gorgeously produced collection of maps and essays."
— Los Angeles Review of Books

"Solnit takes us on a tour that will change the way we think about place. Breathtakingly original, with its seemingly unlimited landmarks and treasures, this atlas of the imagination invites us to search out layers of the city that carry meaning for us."
— San Francisco Bay Guardian

"If you are a lover of maps, of San Francisco, or both, the experience of Infinite City is worth having."
— San Francisco Examiner

"Not your average atlas. . . . A fascinating visual representation of San Francisco's many diverse geographical and cultural layers."
— Fodor's Travel

"With academic wit and an explorer's eye, Solnit teases out the interplay of forces that have guided the city's cycles of growth and destruction, development and decay."
— High Country News

"Writer and activist Rebecca Solnit charts more than thoroughfares and bicycle routes. She tackles the social cartography of San Francisco in a series of maps that make visible the city's hidden mysteries and rich history. Her field guide beautifully juxtaposes famous landmarks and invisible cultural phenomena, essentially drawing social connections between the city's ecology and its neighborhood stories."
— Design Mind

"A fresh and intriguing spin on mapmaking."
— Utne Reader

"A richly textured graphic book that no electronic format can master yet, Infinite City features Rebecca Solnit as cultural and historical tour guide through the city she calls home."
— Shelf Awareness

"Rebecca Solnit synthesizes cultural and critical geographic inquiry into a readable, accessible, and visually stimulating collection of maps and narratives about one of the nation's most diverse metropolitan areas. She admits that the work is a love poem and celebration of a city she adores, but she is also quick to peel away the layers and expose the dark contradictions and flaws in her city. This makes Infinite City both a romantic valentine and a candid, critical introspection."
— Geographical Review

"An amazing collaboration among artists, cartographers, geographers, activists, historians, gadflies, ecologists, photographers, and a law scholar, all collected together by Solnit to pursue her belief that 'every place deserves an atlas.' So it does, and Solnit's collective has come up with one for San Francisco that is simply stunning—though at least as much for the essays that accompany the maps as for the maps themselves. Infinite City is place description at its fullest and most important."
— H-Net Reviews

"Infinite City offers a new way of thinking about any location. Readers will be inspired to create their own atlases of the cafes, music venues, street markets, historical and racial landmarks, iconic trees, statues, bird groups in their own towns or cities. The book provides a template for a way to rethink the world around you."
— Sydney Morning Herald