The Kingdom of Rye: A Brief History of Russian Food (California Studies in Food and Culture #77) (Hardcover)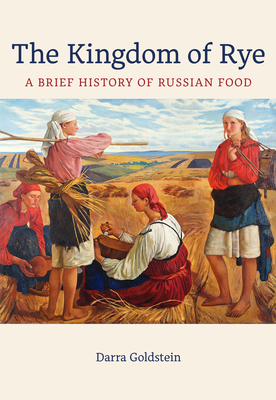 Description
---
Celebrated food scholar Darra Goldstein takes readers on a vivid tour of history and culture through Russian cuisine.
 
The Kingdom of Rye unearths the foods and flavors of the Russian land. Preeminent food studies scholar Darra Goldstein offers readers a concise, engaging, and gorgeously crafted story of Russian cuisine and culture. This story demonstrates how national identity is revealed through food—and how people know who they are by what they eat together. The Kingdom of Rye examines the Russians' ingenuity in overcoming hunger, a difficult climate, and a history of political hardship while deciphering Russia's social structures from within. This is a domestic history of Russian food that serves up a deeper history, demonstrating that the wooden spoon is mightier than the scepter.
 
About the Author
---
Darra Goldstein is the Willcox B. and Harriet M. Adsit Professor of Russian, Emerita, at Williams College and founding editor of Gastronomica. She is author of six award-winning cookbooks, including Beyond the North Wind: Russia in Recipes and Lore.
Praise For…
---
"Brief, but enlightening. . . . Deeply appreciative of Russian cuisine . . .  and the ability of Russian cooks to take whatever was available and turn it into something edible and memorable."
— Food Politics
"Replete not only with life and enthusiasm, but also with a deep wellspring of knowledge. . . . A wonderful, rich and thought-provoking book."
— The TLS
"This concise, information-dense, yet delightful book provides a window into the nature and history of Russian national cuisine. . . . Goldstein's book…can be recommended to almost any reader."
— Economic Botany
"A lyrical tribute to the author's decades-long relationship, both professional and personal, with Russian food. . . . If readers want to grasp the sensory and emotional importance of certain well-loved foods and dishes in Russia, they could do no better."
— The Russian Review