Jeremy Pang's School of Wok (Hardcover)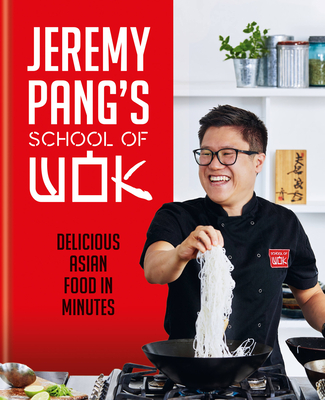 $24.99

At Distributor - We Can Usually Get It in 3-8 Days!
Description
---
Quick and easy Asian cooking from School of Wok founder and chef Jeremy Pang

Celebrate fast, furious and fresh Asian cooking with over 80 recipes from the award-winning culinary institution, School of Wok.

Bringing together the best Asian flavors from across the continent, this book is a combination of quick-fire, easy meals that take as little as 15 minutes to cook. From lavish suppers for lavish weekend suppers to family feasts with a bit more flare, Jeremy Pang's School of Wok contains the tips and tricks you need to make the world of Asian cooking easily accessible so you never have to resort to a takeaway ever again.

Most recipes in the book utilise the 'wok clock' technique, where the ingredients are laid out in a clock formation in the order they will be cooked for complete simplicity. Wok Wednesdays and Flavor Fridays, all seen on the School of Wok Youtube channel, are also featured.

Recipes include:
Black Pepper Hong Kong Beef
BBQ Pork Bao 
Vegan Pad Thai 
Pork and Prawn Wontons in Homemade Sichuan Chilli Oil
Sweet and Sour Crispy Cauliflower

Coming from three generations of Chinese cooks, chef, author and TV presenter Jeremy Pang decided to follow his heart and bring the world of Asian cuisine to fellow food enthusiasts and establish School of Wok in London, a culinary school specializing in teaching Eastern cuisine to students in the comfort of their own homes. 
About the Author
---
The young and talented chef Jeremy Pang comes from three generations of Chinese cooks. Being surrounded by food connoisseurs, Jeremy developed his passion for food and cooking at an early age and soon realised the importance and correlation between basic cooking skills and eating well.

Jeremy is now a regular chef on BBC1's Ready Steady Cook and Channel 4's Sunday Brunch as well as having published two of his own cookbooks: demystifying Chinese cooking in Chinese Unchopped and exploring different delectable dishes in Hong Kong Diner. His latest venture is into the world of supermarket grocery products. Determined to make good, authentic Asian food accessible to everyone, Jeremy has designed three different flavours of stir-fry kits, as well as two bao bun kits - teaching people how to make delicious Taiwanese bao buns in the comfort of their own home and in just 30 minutes.

Following the success of the mobile kitchen, School of Wok opened its first permanent professional kitchen in May 2012 in London's Covent Garden, surrounded by some of the finest restaurants in the capital. Now celebrating its 10-year anniversary, the school has gone from strength to strength: launching a range of products and meal kits, winning at The British Cookery School Awards in 2014 and teaching over 60,000 students the secrets of Asian cuisines.
Praise For…
---
Those ready to take the plunge into wok life will find Pang a faultless guide.—Publishers Weekly