The Man with Candy (Paperback)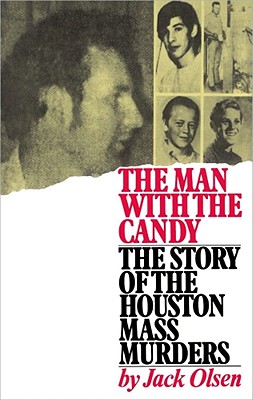 $17.95

At Distributor - We Can Usually Get It in 3-8 Days!
Description
---
The night David Hilligiest didn't come home was both like and unlike other nights when other Houston boys disappeared between the years 1971 and 1973. At three in the morning the police were called, but they just said that boys were running away from the best of homes nowadays and that they'd list David as a runaway. No, there would be no official search for the youngster.

Aghast, the Hilligiests, in the months that followed, hired their own detective, put up posters, even sought the aid of clairvoyants. But David never did come home again because, along with at least twenty-six other Houston boys, he had been murdered and buried by the homosexual owner of a candy factory, the mass murderer of the century, Dean Corll, according to his two teenage confessed accomplices, Elmer Wayne Henley, Jr., and David Brooks. Many of the young boys had not even been reported as missing, and the fact that they were dead would probably never have come to light had not one of the murderers confessed. For in Houston, where in a typical year the total number of murders is twice that of London despite the fact that London is six times as large and far more densely populated, missing persons and violence are likely to be considered commonplace.

In the months before the trial of Henley and Brooks, Jack Olsen interviewed and probed for answers about the criminals, the victims and the city itself, which remained for the most part silent, angry and defensive. The result is a classic of true crime reportage.
About the Author
---
Born June 7, 1925, Jack Olsen was the award-winning author of thirty-three books published in fifteen countries and eleven languages, including Son: A Psychopath and His Victims. A former Time bureau chief, Olsen wrote for Vanity Fair, People, Sports Illustrated, Fortune, and The New York Times Book Review, among others.