Crunchyroll Essential Anime: Fan Favorites, Memorable Masterpieces, and Cult Classics (Paperback)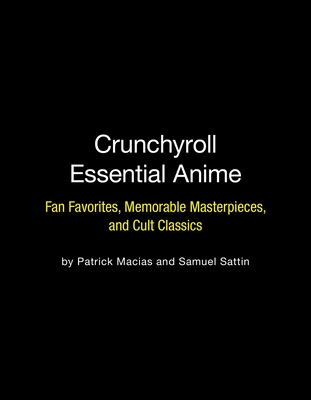 $24.99

Available for Pre-Order (Publication Dates Subject to Change)
Description
---
An insightful guide to the under-explored medium of anime, Crunchyroll's Essential Anime features 50 influential and unforgettable anime series and films that have
 left an undeniable impact on our culture.
More than just a list of anime to watch, 
Essential Anime
 digs into the distinct stories of the creators and studios behind the making of these must-see anime titles, as well as the personal connections and importance they hold with anime fans around the world. With commentary on anime's history and lasting appeal, recommendation lists, and hundreds of stunning images, Crunchyroll's 
Essential Anime
is an indispensable guide for anime lovers and fans, offering an entertaining and moving narrative about anime's true impact on pop culture.
Ranging from classic and modern series and films this official guide will explore iconic and must-see:
 Feature films: Akira (1988), Princess Mononoke (1997), Millennium Actress (2001), Metropolis (2001), Tekkonkinkreet (2006), Sword of the Stranger (2007), Summer Wars (2009), and Your Name (2016)
 Series: Astro Boy (1963), Lupin the 3rd (1967), Macross (1982), Ranma 1/2 (1989), Neon Genesis Evangelion (1995), Dragon Ball Z (1989), Sailor Moon (1992), Revolutionary Girl Utena (1997), Pokémon​ (1997), One Piece (1999),  K-On! (2007), Fullmetal Alchemist: Brotherhood (2009), Sword Art Online (2012), Yuri On Ice!!! (2016), My Hero Academia (2018), and Demon Slayer: Kimetsu no Yaiba (2019)
And more!
About the Author
---
Patrick Macias is the editor in chief of Otaku USA magazine, the founding editor of Crunchyroll News, and the author of numerous books about Japanese pop culture including TokyoScope: The Japanese Cult Film Companion. In addition to contributing liner notes to the Criterion Collection and Arrow Video, he also wrote the original story for the anime series URAHARA which was simulcast globally in 2017. Born and raised in Sacramento, California, Patrick now lives in Tokyo, Japan.

Samuel Sattin is a writer and coffee addict. He adapted the Academy Award Nominated film WolfWalkers into a graphic novel, and is the writer of forthcoming books such as Buzzing and Side Quest. His previously published books include Legend, Bezkamp, and The Silent End. Additionally, his non-fiction work has appeared in The Nib, NPR, and elsewhere, and he works in animation development. Graduating with an MFA in Comics from California College of the Arts and a Creative Writing MFA from Mills College, he now lives in Oakland, California with his wife/assassin and two cats. Learn more at www.samuelsattin.com

Crunchyroll, the world's most popular anime brand, connects anime and manga fans across 200+ countries and territories with 360-degree experiences.