You Are a Story (Hardcover)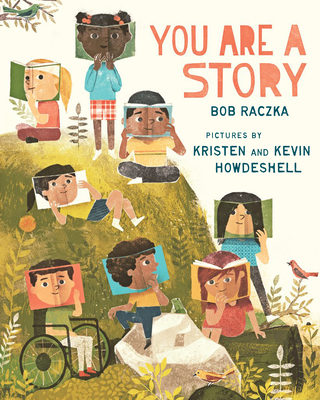 Description
---
An empowering reflection on the many things we are and the ways we relate to the world.

Poet Bob Raczka's You are a Story highlights all of the nuance and potential of a growing person's identity, delighting in the things that make us special and connect us to others. Text and illustrations replete with inventive imagery and appealing metaphors show how we all live as individuals and citizens of the world.

You are a living thing.
You breathe. You eat. You Sleep.
You work and play.
You have dreams and fears.
You have thoughts and memories.
You are.

What makes you you? So much goes into who you are, and you are so many different things: A child, an animal, a body of water, a friend, a mystery, one-of-a-kind, a miracle. You are and could be so many things, but whatever you choose to do, it's your life to write, you are a story.
About the Author
---
Bob Raczka attended the University of Illinois, where he received a degree in graphic design. He writes collections of children's poetry and his own series, BOB RACZKA'S ADVENTURES IN ART. His children's books include NIKO DRAWS A FEELING andWET CEMENT: A MIX OF CONCRETE POEMS, both of which have received multiple starred reviews. He lives in Glen Ellyn, Illinois with his wife and three children.
Praise For…
---
★  "[A] stunning exploration of the interconnection between us and the world. . . . With lively illustrations by Kristen and Kevin Howdeshell, using powerful visual metaphors in an inviting, playful style, the universal beauty of life is perfectly captured and harmonizes well with the empowering text. This empowering and evocative title makes for a delightful read-aloud. . . ."—Booklist, Starred Review

★ "This delightful primer on being human is a mix of facts, speculation, and advice which is not to be missed."—School Library Journal, Starred Review

"The Howdeshells . . . give digital spreads a friendly feel, portraying figures with varied abilities and skin tones via textures that recall printmaking techniques. People flourish in varied ways, but this compendium contains affirmations that are broadly applicable to many."—Publishers Weekly

"Raczka's well-crafted stanzas have a soothing cadence. . . . The Howdeshells' bring these visuals to life with vibrant, whimsical digital art. . . . The meditative dreaminess of each pairing and its implications have an overall inspirational effect, opening viewers up to new ways of perceiving themselves and their future. . . ."—The Bulletin of the Center for Children's Books

"Bold and stirring."—Kirkus Reviews