Machinery's Handbook & the Guide Combo: Large Print (Hardcover)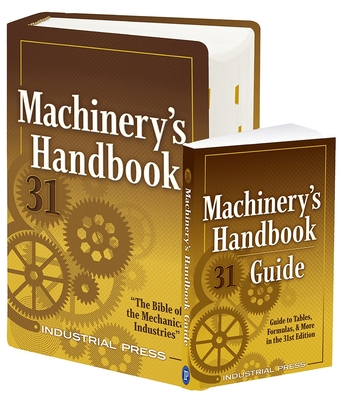 $199.95

At Distributor - We Can Usually Get It in 3-8 Days!
Description
---
Note: This edition is called Large Print as it is an enlarged (7 X 10) version of the original, smaller (4.6 x 7) Toolbox sized edition of this title.The text in this edition is the size of standard reference materials and is not enlarged print for individuals with partial sight.Machinery's Handbook
is acknowledged as an exceptionally authoritative and comprehensive, yet highly practical, and easy-to-use tool. The 31st edition of the Bible of the Mechanical Industries continues in this tradition, providing users with fundamental and essential aspects of manufacturing practices, including hundreds of ASME and ANSI standards updates and thousands of revisions to text, tables, equations, and figures. The
Guide to the Use of Tables and Formulas in the Machinery's Handbook, 31st Edition,
is designed to maximize the enormous practical value of the latest, greatest edition of this invaluable engineering resource, offering useful information on how to make full use of the
Machinery's Handbook
in solving problems on the job.
New to the 31st Edition
Additive Manufacturing: Expert discussions, exploring 3D printing materials, techniques, and workflow, compare traditional machining to today's additive manufacturing processes.
Machine Elements and Operations: Updated and expanded coverage of CAD/CAM operations, boring, nontraditional cutting methods, o-rings and glands, and transmission chains.
Manufacturing and Materials: Additional information on utilizing today's plastics, powder metallurgy standard and tool steels, manufacturing stresses, and preventing corrosion.
Metal Casting and Molding: New information for working with iron, steel, nonferrous metals, and alloys, metal casting and molding processes, and modeling and design considerations.
Math, Measurement, and Dimensioning: Reorganized, revised, and expanded sections provide ready access to clear information, essential formulas, and everyday calculations and conversions.
Metalworking Processes: More on brazing, soldering, welding, nondestructive testing, forming sheet metal, mill finishes, passivation, electropolishing, and plating.
Threads and Threading: The latest series and selected combinations for Unified Screw Threads.
The Guide Features
Revised to reflect numerous changes made in the new 31st edition, with specific cross references to quickly locate information in the far larger book, the Guide enables users to become familiar with the Handbook's vast range of vital content.
Offering more than 150 worked-out examples and nearly 500 review questions (with answers) specially selected for engineers, apprentices, and students, the Guide addresses problems commonly encountered in manufacturing and metalworking.
By following practical techniques explained in the Guide and cross-referenced to the Handbook, readers will enhance their ability to reach specific information and solutions more quickly and easily.
About the Author
---
Erik Valdemar Oberg, born 1881, died 1951.