In My Neighborhood (Hardcover)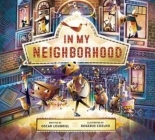 $17.95

Special Order - Arrival Times Vary
Description
---
SLJ Star!
A beautifully realized city inhabited by musical instruments
A search for one's place in the world provides the storyline: The narrator, a drum, feels like an outcast because he alone—unlike his family and friends—cannot play a melody. Like all kids growing up, he must find out where he fits.
The narrator, a drum, wanders the streets of Coelho's vividly realized city of musical instruments—where even the birds sprout miniature trumpets from their mouths—feeling like an outcast because he alone, among all his family and neighbors, can't play a melody. He adores his violin brother, cello father, and piano mother but feels he has nothing to offer to their music. search for identity in a city of musical instruments.
"My father is Cello, and oh, what a fellow.The tone of his laugh is low, smooth, and mellow.But me? My name's Drum. BOOM-CLACK, RAT-A-TAT.My head is a snare and I wear a hi-hat.My stomach's a bass drum, my arms are drumsticks,and my only song is CLICK-CLACK, CLACK-CLICK."
But one day a trio of saxophones ask him to join their band, and what they tell him gives him an epiphany "So that's what a drum does! I now understand.I don't carry a tune; I carry a band." But he must still prove it to himself, and that takes all his courage.
Loubriel's story of bravery and identity, infused with Latin rhythms and joy, provides a fine vehicle for Coelho's vibrant technique and palette. Coelho's city of music bursts with exuberance. In backmatter,Loubriel, a lifelong drummer, explains how the drum kit lays a song's foundation. The bass drum is the heartbeat; the hi hat is the dynamic metronome; the snare drum is the drum kit's singer.
About the Author
---
Oscar Loubriel (San Antonio, TX) is a first-generation Puerto Rican American raised in a musical family in Chicago, surrounded by uncles who were professional guitar players. Given his first drum set at the age of 10, Oscar has been playing ever since in churches, clubs, and concert venues. He toured with high school and college bands, studied music theory, graphic design, and fiction writing, recorded a few albums, and visited fifty countries on five continents while playing drums on cruise ships. This is his third children's book.

Rogério Coelho (Curitiba, Brazil) has illustrated more than 100 books for Brazilian publishers and has twice received the Jabuti Prize, Brazil's top literary prize. His illustrations have been published in England (Storytime Magazine) and in the US, where this is his fourth book. His wordless picture book Boat of Dreams (Tilbury House, 2017) received starred reviews from School Library Journal and Booklist and was named a Best Book for Kids 2017 by the New York Public Library.
Praise For…
---
SLJ Starred Review: A celebratory story about conquering self-doubt and finding one's purpose, Loubriel's lyrical rhymes will compel every young reader and lover of music to dance for joy. Set in a cityscape designed with geometric brickwork and tree branches like musical notes, anthropomorphized instruments are dressed in their finest and filling the streets with bright sounds. Drum tells how he quietly compares his "rat-a-tat" sound to the soulful melodies of his Oboe father, Piano mother, and Violin brother, as well as the other musical instrument townspeople. When invited to play with the Saxophone brothers, Drum discovers he can claim his own sound and confidently contributes to the songs shared by all. With sweeping and sometimes tilting perspectives guided by light-infused focal points, Coelho employs masterful use of color with a wealth of hues and textures to enliven the scenes. By story's end, the compositions mimic the pulsing beats of Drum's rhythm. A passionate author's note closes this story that honors the joy of music while honoring every individual sound. VERDICT With captivating, luminously colorful illustrations and a vintage feel, the story serves as an apt allegory in how each individual instrument holds value in the force of music's power.

— Rachel ­Mulligan, Westampton, NJ - SLJ