The Complicated Roof - a cut and stack workbook: Companion Guide to A Roof Cutters Secrets (Paperback)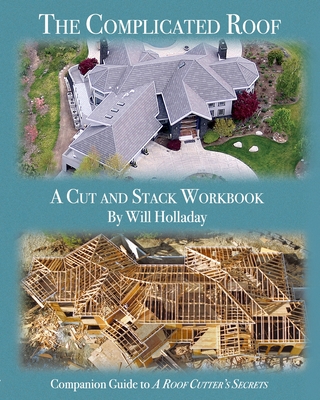 $24.95

At Distributor - We Can Usually Get It in 3-8 Days!
Description
---
Increase your roof framing knowledge and understanding as you follow veteran roof cutter Will Holladay through the real life process of calculating, cutting and stacking two tricky custom home roofs. This is a "WORKBOOK" (as the title clearly states) written to ACCOMPANY and apply Will's classic work "A Roof Cutter's Secrets" (the textbook). In this workbook you will see the principles from "A Roof Cutter's Secrets" come alive. It is by no means easy and will require hard work and concentration to finish. But, when you do finish this workbook you can rest assured that your roof framing skills are among some of the best around. The methodology along with the correct answer for every illustrated roof situation is fully detailed. You MUST have a copy of "A Roof Cutter's Secrets" (2002 or later) and a Construction Master Pro calculator to follow along. 108 pgs. w/250 questions and 61 illustrations.
About the Author
---
Will Holladay learned production roof cutting in the Los Angeles housing tracts during the mid 1970s. When roof trusses gained prominence in the late 1970s he moved north into the custom home market along the central California coast. There he specialized in framing large custom homes with "complicated roofs". Over the years, Will has done jobs up/down the West Coast and in New England. In 1988 he wrote the now classic roof framing book entitled "A Roof Cutter's Secrets to framing the custom home". This book was revised and republished in 2002 by Hanley Wood. Will continues to keep his hand in roof framing by working as a free lance consultant (www.theroofcutter.com).