Confidence Game: How Hedge Fund Manager Bill Ackman Called Wall Street's Bluff (Bloomberg #146) (Paperback)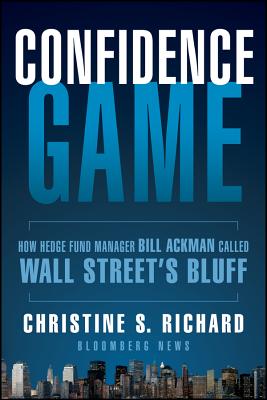 $16.95

Special Order - Arrival Times Vary
Description
---
An expose on the delusion, greed, and arrogance that led to America's credit crisis
The collapse of America's credit markets in 2008 is quite possibly the biggest financial disaster in U.S. history. Confidence Game: How a Hedge Fund Manager Called Wall Street's Bluff is the story of Bill Ackman's six-year campaign to warn that the $2.5 trillion bond insurance business was a catastrophe waiting to happen. Branded a fraud by the Wall Street Journal and New York Times, and investigated by Eliot Spitzer and the Securities and Exchange Commission, Ackman later made his investors more than $1 billion when bond insurers kicked off the collapse of the credit markets.
Unravels the story of the credit crisis through an engaging and human drama
Draws on unprecedented access to one of Wall Street's best-known investors
Shows how excessive leverage, dangerous financial models, and a blind reliance on triple-A credit ratings sent Wall Street careening toward disaster
Confidence Game is a real world "Emperor's New Clothes," a tale of widespread delusion, and one dissenting voice in the era leading up to the worst financial disaster since the Great Depression.
About the Author
---
Christine S. Richard is a reporter with Bloomberg News. She has covered financial markets from Washington, Hong Kong, Singapore, and New York. Her work has been recognized by organizations including the New York Society of Certified Public Accountants, the National Association of Real Estate Editors, the New York Press Club, and the Newswomen's Club of New York.