Risk Modeling: Practical Applications of Artificial Intelligence, Machine Learning, and Deep Learning (Wiley and SAS Business) (Hardcover)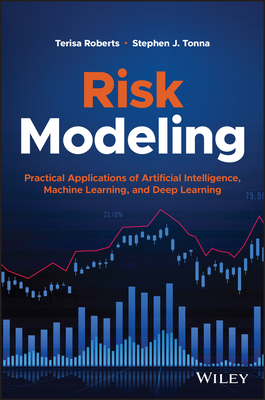 $49.95

Special Order - Arrival Times Vary
Description
---
A wide-ranging overview of the use of machine learning and AI techniques in financial risk management, including practical advice for implementation
Risk Modeling: Practical Applications of Artificial Intelligence, Machine Learning, and Deep Learning introduces readers to the use of innovative AI technologies for forecasting and evaluating financial risks. Providing up-to-date coverage of the practical application of current modelling techniques in risk management, this real-world guide also explores new opportunities and challenges associated with implementing machine learning and artificial intelligence (AI) into the risk management process.
Authors Terisa Roberts and Stephen Tonna provide readers with a clear understanding about the strengths and weaknesses of machine learning and AI while explaining how they can be applied to both everyday risk management problems and to evaluate the financial impact of extreme events such as global pandemics and changes in climate. Throughout the text, the authors clarify misconceptions about the use of machine learning and AI techniques using clear explanations while offering step-by-step advice for implementing the technologies into an organization's risk management model governance framework. This authoritative volume:
Highlights the use of machine learning and AI in identifying procedures for avoiding or minimizing financial risk
Discusses practical tools for assessing bias and interpretability of resultant models developed with machine learning algorithms and techniques
Covers the basic principles and nuances of feature engineering and common machine learning algorithms
Illustrates how risk modeling is incorporating machine learning and AI techniques to rapidly consume complex data and address current gaps in the end-to-end modelling lifecycle
Explains how proprietary software and open-source languages can be combined to deliver the best of both worlds: for risk models and risk practitioners
Risk Modeling: Practical Applications of Artificial Intelligence, Machine Learning, and Deep Learning is an invaluable guide for CEOs, CROs, CFOs, risk managers, business managers, and other professionals working in risk management.
About the Author
---
TERISA ROBERTS, PHD, is Global Solution Lead for Risk Modeling and Decisioning at SAS. She has nearly twenty years of experience in quantitative risk management and advanced analytics. She regularly advises banks and regulators around the world on industry best practices in AI, automation, and digitalization related to risk modeling and decisioning. STEPHEN J. TONNA, PHD, is a Senior Banking Solutions Advisor at SAS. He is a member of the SAS Risk Finance Advisory team for SAS Risk Research and Quantitative Solutions (RQS) in Asia Pacific. He received his doctorate in genetics, mathematics, and statistics from the University of Melbourne and research fellowship from the Brigham and Women's Hospital and Harvard Medical School.