Pu Pu Hot Pot: The World's Best Restaurant Names (Paperback)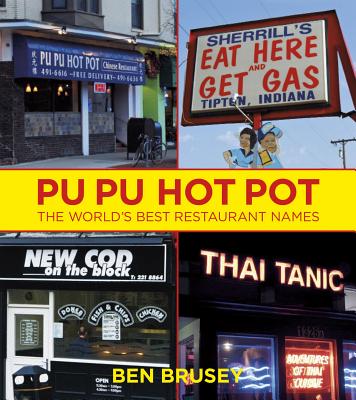 $9.99

Special Order - Arrival Times Vary
Description
---
100 snapshots of the world's most amazing, dreadful and utterly bizarre restaurant names

"What's in a name?" -William Shakespeare (foodie)

For too long, restaurants have been judged on the quality of their food. In some parts of the world, chefs have been known to waste literally hours of their lives carefully preparing and cooking stuff, only for other people to eat it and, later, part ways with it. This insanity must stop. There is only one thing to look for in a restaurant; a secret hidden in the pages of this laugh-out loud hilarious book.
Ben Brusey has scoured the globe from Sunderland to Majorca to find the world's best-named restaurants, bars, and cafes. Breathtaking discoveries have been made, new standards of culinary excellence have been set. So, cancel that table at Per Se, forget that drink at the John Dory Oyster Bar, and open wide for a mouthful of wisdom guaranteed to leave you hungry, thirsty, and gagging for more.
Why not savour the culinary delights of:

- A SALT & BATTERY (New York, USA). Chef's tip: Don't make eye contact with him.

- NEW COD ON THE BLOCK (Sheffield, UK). Previously THE GILL NEXT DOOR.

- PHO SHIZZLE (Cambridge, Canada). Vietnamese has never been so gangsta.

- THAI TANIC (Washington DC, USA). Our tip: Avoid the Iceberg Lettuce.

- HINDENBURGER (Toronto, Canada). Flame grilled and disastrously good.

- PU PU HOT POT (Boston, USA). The critics say: Chinese food guaranteed to put fire in your belly.

- JESUS FAMILY RESTAURANT (Fort Worth, Texas). The Lord grills in mysterious ways.
About the Author
---
BEN BRUSEY, author of Pu Pu Hot Pot, likes to eat food at restaurants when he can. He also likes to compete in eating challenges and his record is thirty fish fingers in one sitting (plus mayo, lemon and ketchup). His favorite restaurant in London is the Phât Phúc Noodle Bar, located near South Kensington. "Phât Phúc" translates as "Happy Buddha". Seriously.
Praise For…
---
"What's interesting about the book is that there's not a single restaurant in it that you'd want to eat in." —A. A. Gill, Restaurant critic, Sunday Times

"Hilarious." —Daily Mail

"You shouldn't laugh . . . but can't help doing so." —Telegraph, Books for Christmas

"Rib-tickling." —Huffington Post

"There's no chance of setting down Pu Pu Hot Pot-- this is a deskside book guaranteed to garner attention and plenty of giggles." —Popsugar.com