American Road Trip (Paperback)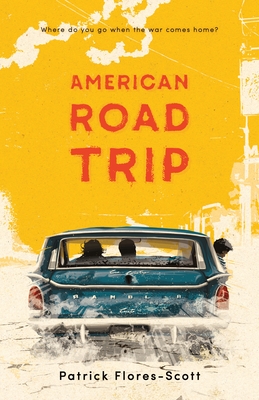 $10.99

At Distributor - We Can Usually Get It in 3-8 Days!
Description
---
A heartwrenching YA coming of age story about three siblings on a roadtrip in search of healing.

With a strong family, the best friend a guy could ask for, and a budding romance with the girl of his dreams, life shows promise for Teodoro "T" Avila. But he takes some hard hits the summer before senior year when his nearly perfect brother, Manny, returns from a tour in Iraq with a devastating case of PTSD. In a desperate effort to save Manny from himself and pull their family back together, T's fiery sister, Xochitl, hoodwinks her brothers into a cathartic road trip.

Told through T's honest voice, this is a candid exploration of mental illness, socioeconomic pressures, and the many inescapable highs and lows that come with growing up—including falling in love.

A Christy Ottaviano Book
About the Author
---
Patrick Flores-Scott currently teaches struggling elementary readers and math students. He's written for theatre and the slam poetry stage. Jumped In is his first novel. He lives Seattle with his wife and two young boys.
Praise For…
---
A Teen Vogue Best Gift Book for Teens
A Texas Tayshas List Selection

"Told via T's honest, engaging, and often-naive voice, the story openly explores mental illness spawned by war and how the illness affects family members and those around them. This powerful story also reminds readers that the paths to their dreams may have to take detours but are still attainable." —Booklist, starred review

"In a story about mending broken ties, making sacrifices, and visiting landscapes and loved ones from the past, Flores-Scott invites readers to follow T on a road trip that brings to life the Avilas' Latino heritage and Manny's disorder. . . it celebrates many things: family love, realized dreams, and the taste of a green chile cheeseburger. " —Publishers Weekly, starred review

"Adeptly provides a window and a mirror of Latinx culture and reimagines the American road trip as an individual journey, one deeply anchored in sacrifice for those we love." —School Library Journal, starred review

"Written in T's vulnerable, observant voice, 'American Road Trip' holds true to classic road-trip themes like the emotional power of singalongs and unexpected detours, but it also wades into the darker waters of mental illness with both realism and sensitivity." —The New York Times

"American Road Trip is as multifaceted as its protagonist, Mexican-American teen Teodoro (known as "T"), wrapping a moving multigenerational story into a endearing coming-of-age tale." —The A.V. Club

"Flores-Scott's latest explores the fragile bonds of a fractured family . . . Teodoro's funny, wry first-person narration features quick, emotionally charged sentences that provide the narrative a breathless, hard-hitting quality. This novel bursts with much-needed optimism. A compassionate success. " —Kirkus Reviews

"Flores-Scott's character development is extraordinary. . .Readers will find themselves intimately connected to and cheering for the success of these siblings. With strong messages of hope, survival, and the power of family, American Road Trip is a must-read." —VOYA