Want to Trade Two Brothers for a Cat? (Paperback)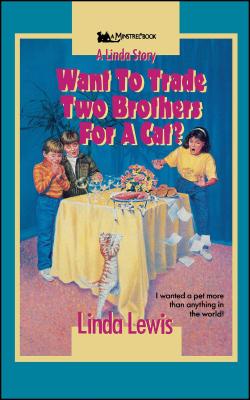 $7.95

At Distributor - We Can Usually Get It in 3-8 Days!
Description
---
After trying just about everything to get her parents to give her a pet for her birthday, Linda is put to the test as she has to train her new kitten in two weeks after Scratchy the cat begins to destroy the house.

As her birthday approaches, Linda spends all her energy trying to convince her parents that a pet dog would be the perfect present. When her mom refuses, saying there isn't enough room in the apartment for a dog, Linda wishes she could get rid of her twin kid brothers and let a pet take their place.

But with some thought, Linda's dad decides they could squeeze a little kitten into their home. It takes Linda a few days, but she eventually comes to love Scratchy the cat. And one thing is for sure, Scratchy is far smarter than her brothers, but she is also a bit more destructive…

After Scratchy destroys her mom's favorite plant and gets caught eating right off of the dinner table, Linda's parents give her just two weeks to teach the kitten to behave… or else!
About the Author
---
Linda Lewis is the author of a series of young adult novels, unofficially known as the "Linda Series". The series was published by Archway Paperbacks from 1985 to 1993. The series centers on Linda Berman and her love life from the fourth grade to the summer after her senior year.