Skate the World: Photographing One World of Skateboarding (Hardcover)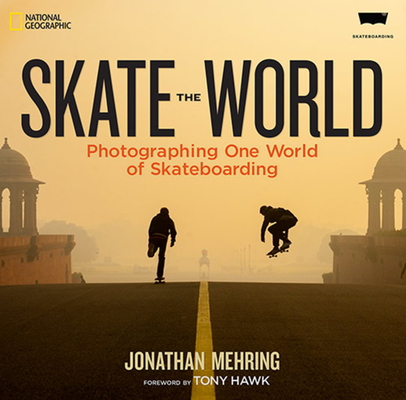 $30.00

At Distributor - We Can Usually Get It in 3-8 Days!
Description
---
In this dynamic National Geographic sports photography collection of the world's greatest professional skateboarders in action, award-winning photographer Jonathan Mehring sets out to capture the heart and soul of skate culture. Hit the streets with 200 exhilarating photographs that take us from New York to Hong Kong to Istanbul and beyond. Featuring stars like Tony Hawk, Nyjah Huston, and Eric Koston, Mehring's images have been published in top skateboarding magazines, and ESPN named him one of the sport's ten most influential people. Now, in his first book, Mehring invites us along on his thrilling photo adventures on six continents around the world.

 By capturing these experiences on camera and including complementary images contributed by other top skate photographers, Mehring presents an exciting and artful look at skate culture around the world. With an adrenaline rush on every page, this book celebrates the joy of skateboarding and its power to inspire young people to overcome obstacles—on the board and off.
About the Author
---
Award-winning skateboard photographer JONATHAN MEHRING has been named one of the ten most influential people in skateboarding by ESPN and the X Games. His work has been featured in Rolling Stone and the Wall Street Journal as well as in top skateboarding magazines such as Thrasher, Transworld SKATEboarding, and the Skateboard Mag. Mehring's work has taken him to more than 30 countries. He lives in Brooklyn, New York.
Praise For…
---
"Jonathan Mehring's first book, called Skate the World, featuring images he's made over a period of 15 years of skateboarding in unexpected places all over the globe." --Photo District News

"A new book of photography provides us with a novel way of looking at the world." --Hemispheres 

"Beyond these impressive landscapes and hair-raising tricks, Mehring documents the spirit of skateboarding culture found in unassuming small cities and towns: quiet moments where people find community and solace in a pastime that can be a distraction from hardship, and the skateboard a badge of camaraderie." --Vanity Fair 

"Skate the World chronicles skateboarders grinding, ollying, and catching record-breaking air on nearly every continent." --Daily Beast

"Jonathan Mehring's Skate the World (National Geographic) is sick." --Vanity Fair