The Pornification of America: How Raunch Culture Is Ruining Our Society (Paperback)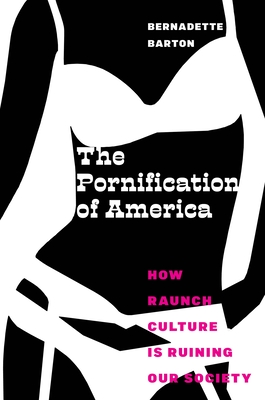 Description
---
An up-close look at how porn permeates our culture
Pictures of half-naked girls and women can seem to litter almost every screen, billboard, and advertisement in America. Pole-dancing studios keep women fit. Men airdrop their dick pics to female passengers on planes and trains. To top it off, the last American President has bragged about grabbing women "by the pussy." This pornification of our society is what Bernadette Barton calls "raunch culture." Barton explores what raunch culture is, why it matters, and how it is ruining America. She exposes how internet porn drives trends in programming, advertising, and social media, and makes its way onto our phones, into our fashion choices, and into our sex lives. From twerking and breast implants, to fake nails and push-up bras, she explores just how much we encounter raunch culture on a daily basis--porn is the new normal. Drawing on interviews, television shows, movies, and social media, Barton argues that raunch culture matters not because it is sexy, but because it is sexist. She shows how young women are encouraged to be sexy like porn stars, and to be grateful for getting cat-called or receiving unsolicited dick pics. As politicians vote to restrict women's access to birth control and abortion,
The Pornification of America
exposes the double standard we attach to women's sexuality.
About the Author
---
Bernadette Barton is Professor of Sociology and Gender Studies at Morehead State University. She is the author of The Pornification of America: How Raunch Culture is Ruining Our Society, Stripped: More Stories from Exotic Dancers, and Pray the Gay Away: The Extraordinary Lives of Bible Belt Gays.