Survivor's Guilt (An Erin McCabe Legal Thriller #2) (Paperback)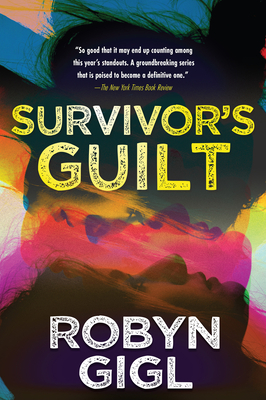 $16.95

At Distributor - We Can Usually Get It in 3-8 Days!
Other Books in Series
This is book number 2 in the An Erin McCabe Legal Thriller series.
Description
---
"A groundbreaking series…razor-sharp, compulsively readable courtroom scenes." —The New York Times Book Review

"Another barrier-breaking thriller from a voice missing too long from the mystery chorus." —The Los Angeles Times Book Review

The New York Times Best Mystery Novel in a Series 2022 | The Los Angeles Times Best Crime Novels Winter 2022 | LAMBDA Literary Most Anticipated LGBTQIA+ Literature | CrimeReads Most Anticipated and Best Crime Fiction Of 2022 | SheReads Best Mystery Books Coming in 2022

Perfect for fans of Laura Griffin and Lisa Unger, Attorney and LGBTQ+ activist Robyn Gigl tackles the complexities of gender, power, public perception, and human trafficking with a ripped-from-the-headlines plot in this powerful legal thriller featuring a transgender attorney at its center.

WINNER of the PUBLISHING TRIANGLE'S JOSEPH HANSEN AWARD FOR LGBTQ CRIME WRITING

At first, the death of millionaire businessman Charles Parsons seems like a straightforward suicide. There's no sign of forced entry or struggle in his lavish New Jersey mansion—just a single gunshot wound from his own weapon. But days later, a different story emerges. Computer techs pick up a voice recording that incriminates Parsons' adoptive daughter, Ann, who duly confesses and pleads guilty.

Erin McCabe has little interest in reviewing such a slam-dunk case—even after she learns that Ann, like herself, is a trans woman. Yet despite their misgivings, Erin and her law partner, Duane Swisher, ultimately can't ignore the pieces that don't fit. As their investigation deepens, they convince Ann to withdraw her guilty plea. But Ann clearly knows more than she's willing to share, even if it means a life sentence. Who is she protecting, and why?

Fighting against time and a prosecutor hell-bent on notching another conviction, Erin and Swish work tirelessly to clear Ann's name. But despite Parsons' former associates' determination to keep his—and their own—illegal activities buried, a horrifying truth emerges—a web of human exploitation, greed, and murder. Soon, a quest to see justice served becomes a desperate struggle to survive . . .
About the Author
---
Robyn Gigl, the author of the Erin McCabe legal thrillers, is an attorney, speaker and activist who has been honored by the ACLU-NJ and the NJ Pride Network for her work on behalf of the LGBTQ community. Appointed by the New Jersey Supreme Court to the Court's Committee on Diversity Inclusion and Community Engagement, she's practiced law for more than 40 years, representing clients in state and federal courts. She also is active in the New Jersey State Bar Association where she is a member of the Women in the Profession Section and a Past Chair of the Bar's LGBT Rights Section. She is also a member of the Board of Directors of Garden State Equality, NJ's largest LGBTQ+ Civil Rights Organization. A frequent lecturer on diversity issues, she lives in New Jersey and can be found online at RobynGigl.com or on Twitter @RobynGigl.
Praise For…
---
Praise for Survivor's Guilt

"A groundbreaking series—Erin is trans, one of precious few in crime fiction—now stands to become a definitive one. Gigl is especially gifted at writing razor-sharp, compulsively readable courtroom scenes, something that sinks many legal thriller authors." —The New York Times Book Review
 
"[Survivor's Guilt is] another barrier-breaking thriller from a voice missing too long from the mystery chorus." —The Los Angeles Times Book Review
 
"Topically relevant, edgy, and riveting, this series is one to watch. Rooting for a trans protagonist in a position of power is thoroughly refreshing and inspiring. Here's to more Erin McCabes." —Library Journal
 
"Robyn Gigl's SURVIVOR'S GUILT is so good that it may end up counting among this year's standouts. A groundbreaking series is poised to become a definitive one." —The New York Times Book Review
 
"Stunning…Gigl delightfully flips the usual terms of the genre with a murder victim readers are quickly drawn to hate and a murderer whom they will be rooting for. Her takes on big questions of justice, revenge, and the nature of victimhood will resonate with many." —Publishers Weekly, STARRED REVIEW
 
"Another great merger of legal mystery and psychological thriller." —CrimeReads
 
"[Survivor's Guilt is] another barrier-breaking thriller from a voice missing too long from the mystery chorus." —The Los Angeles Times Book Review

"Stunning…Gigl delightfully flips the usual terms of the genre with a murder victim readers are quickly drawn to hate and a murderer whom they will be rooting for. Her takes on big questions of justice, revenge, and the nature of victimhood will resonate with many." —Publishers Weekly, STARRED REVIEW for on Survivor's Guilt
 
"Among this year's standouts…hair-raising…thrillingly complex…a groundbreaking series poised to become a definitive one." —The New York Times Book Review (Sarah Weinman) on Survivor's Guilt

"Robyn Gigl's SURVIVOR'S GUILT is so good that it may end up counting among this year's standouts. A groundbreaking series is poised to become a definitive one." —The New York Times Book Review

"This intelligent page-turner with a social conscience illuminates the complexities of guilt and justice." —The Bookseller, Editor's Choice

"Survivor's Guilt is a richly-textured legal thriller that brims with authentic detail. Clever, bold and original, it skillfully pairs a compulsive plot with a cast of complex characters. In Erin and Swish, Robyn Gigl gives us a winning duo—and a riveting series that's set to become a classic." —Kia Abdullah, author of Perfectly Nice Neighbors
 
Praise for Robyn Gigl's Erin McCabe Legal Thrillers
 
"Emotionally resonant…Gigl is too astute and compassionate a writer to create cartoon villainy out of anti-trans attitudes…quietly groundbreaking." —The New York Times Book Review on By Way of Sorrow
 
"Readers will find that BY WAY OF SORROW is a compulsively riveting page-turner with a complex heroine, a captivating plot, and no easy answers. It's one of the best thrillers of the year." —Mystery Scene on By Way of Sorrow
 
"An intelligent and resourceful protagonist with an unusual backstory...Erin's ability to navigate the intricacies of the law is just as fascinating as the subsequent perils she encounters. Gigl, an attorney, offers some enlightening insights into the workings of the legal world." —Publishers Weekly on By Way of Sorrow
 
"Gigl, a transgender lawyer herself, provides provocative insights into the legal system and the challenges of gender identity." —Booklist
 
"Gigl's accomplishment here is to parse the serious flaws with the legal system and expose the vulnerability of homeless members of the trans community by way of subtle characterization and seamless plotting. In less skillful hands, we might get melodrama or a polemic; here, we get engrossing originality—and a brilliant point in a larger argument for the benefits of greater representation in our beloved genre." —Lambda Literary Review on By Way of Sorrow
 
"A nuanced and beautiful story of standing up for what's right, against all odds." —CrimeReads on By Way of Sorrow
 
"With tight, realistic plotting interweaving a murder mystery with insights into transgender issues, By Way of Sorrow is a promising series debut… I'm looking forward to seeing where Robyn Gigl will go with this series next, and am really glad she's writing so honestly and entertainingly about trans issues in a field with precious few trans leads." —Criminal Element on By Way of Sorrow
 
"Topically relevant, edgy, and riveting, this series is one to watch. Rooting for a trans protagonist in a position of power is thoroughly refreshing and inspiring. Here's to more Erin McCabes." —Library Journal