Marketing and Social Media: A Guide for Libraries, Archives, and Museums (Paperback)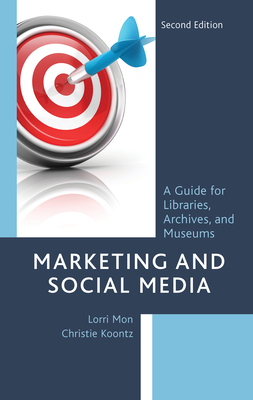 $66.00

At Distributor - We Can Usually Get It in 3-8 Days!
Description
---
This updated new edition is a much- needed guide to marketing for libraries, archives, and museum professionals in the social media age. It is both an introductory textbook and a guide for working professionals who want to go beyond mere promotion to developing and deliberately managing a comprehensive marketing campaign.
About the Author
---
Dr. Lorri Mon is an associate professor and former Director at the Florida State University School of Information. Her research has explored the changing ways in which organizations provide education and information services and interact with their users via technologies such as chat, e-mail, instant messaging, text messaging, social media, virtual worlds and in makerspace/fab lab environments. Dr. Mon has often been an early innovator in developing and teaching classes in emerging areas that build upon her research such as social media management, virtual reference environments, and managing makerspaces, and she also teaches in key skills areas for libraries including reference and information services, government information, and information behavior. She received the Elfreda Chatman Award for her research on avatar-mediated reference and educational interactions in virtual worlds, and worked together with Dr. Christie Koontz and Dean Jue on the iMapLibraries project in using demographic data and GIS mapping to show how public libraries served local communities Dr. Christie Koontz has taught marketing, grantwriting, and other courses at library and information science programs at Florida State University (FSU), and San Jose State University (SJSU), USA. She presents and teaches internationally about marketing. In her research, Dr. Koontz has been a pioneer in areas including the marketing of libraries and nonprofit organizations, and the use of geographic and spatial data in understanding how people use local facilities and services. Dr. Koontz won the prestigious Carroll Baber Research Award from the American Library Association for a study to identify differences in use patterns amongst communities comprised of people with greater or lesser income, education, and racial diversity. Her research led to a nationwide study identifying 3500 lower income and majority-minority library markets, and describing how people within these markets use materials and services in the library. Dr. Koontz's research became the basis of the U.S. Public Library Geographic Database which included relevant US census data and library use data from 16,000 communities. Dr. Koontz's academic training and work are primarily focused in communications, including journalism, advertising, and marketing, and she continues to publish, teach, and give presentations worldwide in support of marketing and advocacy efforts for nonprofits.