Jamey Aebersold Jazz -- Good Time, Vol 114: Improve Your Time & Harmonic Awareness, Book & Online Audio (Jazz Play-A-Long for All Instrumentalists #114) (Paperback)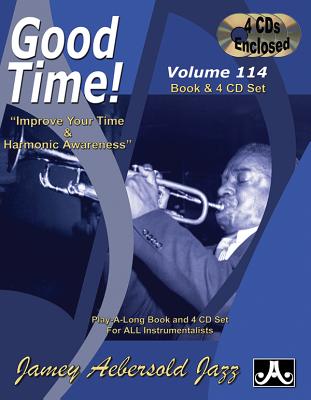 $19.95

Special Order - Arrival Times Vary
Description
---
For all instrumentalists wishing to improve their time, sharpen their harmonic awareness, or just experiment with different rhythm section configurations. The best way to develop good time is to play with musicians who have good time; musicians like Adam Nussbaum and Jay Anderson. This set includes 15 play-along tracks of various tempos and styles based on the changes to well-known standards. Bassists will love playing with drums-only audio. Pianists and Guitarists will enjoy soloing or comping with any of the first three mixes. Horn Players will enjoy playing with any of the audio. This versatile, first-of-its-kind play along is sure to become a favorite. Titles: Relaxin' (F Blues) * Runnin' & Gunnin' (I Got Rhythm) * Soulful Times (Old Folks) * Mr. Alex (Cantaloupe Island Type Tune) * Peaceful Ideas (Soul Eyes) * A Little Stop-time (Blues w/bridge) * A Blessing In Disguise (Body & Soul) * I Remember Grant (Grant Green Bossa) * An April Recall (Medium tempo) (I Remember April) * What's Your Hurry (Elvinish Pedal) * No Smokin' In Here (B-flat Blues w/new changes) * Catchy Waltz (Stella by Starlight in 3/4) * Double Trouble (Fast tempo) (Modal in D-) * Clear As A Bell (Impressions). Each album has a different mix, allowing maximum versatility as follows:
* Album 1 is a split track with bass on one channel and drums on the other.
* Album 2 is Bass Only on both channels.
* Album 3 is Drums Only on both channels.
* Album 4 is Piano on both channels, bass on the left, and drums on the right.