Gentle Hikes of Minnesota's North Shore: The Area's Most Scenic Hikes Less Than 3 Miles (Paperback)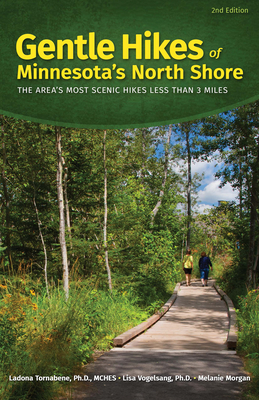 $14.95

At Distributor - We Can Usually Get It in 3-8 Days!
Description
---
The Minnesota hiking guide for everyone
Minnesota's North Shore, from Duluth to the Canadian Border, is renowned for its beauty. Picturesque waterfalls, winding rivers, rocky landscapes, and, of course, Lake Superior attract visitors from across the Midwest. With Gentle Hikes of Minnesota's North Shore, there's no need to fill your backpack with gear or plan an overnight camping trip to see the best of this unparalleled region. Authors Ladona Tornabene, Lisa Vogelsang, and Melanie Morgan present the top outings under 3 miles in length. Are you short on time? Did you bring the kids? Does your group come with a range of physical abilities? No problem With this revised and updated guidebook, you have details about more than 45 short hikes at your fingertips.
Each trail entry includes full-color photos, a map, and the information you want to know: total length, surface type, resting areas, trail highlights, and more. As an added bonus, the book includes details on 15 scenic walks less than a mile long, 18 waysides and scenic locales, and 11 picnic sites. Plus, there are special sections for people traveling in RVs and for people with physical challenges.
Plan the perfect outdoor adventures for your entire family, including small children and seniors. These gentle yet spectacular hikes are inviting for everyone.
About the Author
---
Ladona Tornabene, Ph.D., MCHES, is an Associate Professor of Public Health Education and Promotion at the University of Minnesota Duluth (UMD). Avid in promoting health via the outdoors, she believes that better health on the inside is supported through access to the outside. This belief has shaped her academic curiosity, leading to numerous conference presentations and to the innovative Gentle Hikes series (MN, WI, MI). Such books aim to empower people of all physical ability levels to access the outdoors by creating a know-before-you-go approach via significant trail detail (e.g. width/surface, number of steps, rock/root ratings, inclines). The books also incorporate research-based info on the health benefits of hiking and of simply being in nature. Another academic curiosity of Ladona's is the visual arts' role in promoting health, which led to the development of a photo-based data collection method, and numerous publications/presentations. As a fine-art nature photographer, she shares best spots along the trails for happy-snapping! Furthermore, she uses her photography for philanthropic purposes with her "Picture Your Passion" UMD scholarship fund (www.d.umn.edu/ ltornabe/photography/) and through the Foundation for Photo/Art in Hospitals (healingphotoart.org). Her work is represented by Master Framing Gallery in Duluth, MN, and is displayed internationally through the Foundation. Lisa Vogelsang, Ph.D., has taught at the University of Minnesota Duluth, primarily in Public Health Education and Promotion. She has presented internationally on the importance of green space to health and informs others that the benefits of being in nature extend beyond the hiking. As an avid photographer, her academic interests encompass the health impact of viewing photos of nature, particularly in hospital/healthcare settings. Her photos are displayed locally and internationally through the Foundation for Photo Art in Hospitals, as well as marketed regionally. A former two-time Olympian in two different sports, Lisa sustained a devastating ankle injury while training. Seven surgeries over 34 years could not remedy the progressive bone spurs and arthritis. To continue hiking, she needed more details about trails before venturing out, which fueled a desire to "make the outdoors accessible to everyone," and the Gentle Hikes concept was born. While the books can be used by anyone seeking short yet scenic hikes within the Lake Superior region, the amount of detail included may be especially helpful to parents with strollers/young children and people with physical challenges. Since the book's publication, her ankle replacement has afforded her many miles of hiking! Melanie Morgan is a Minnesota native who grew up exploring the woods near her family cabin as a child. There she developed a love of the natural world, learning the names of many wildflowers, trees, and animals. Many happy family vacations were spent camping along the North Shore and up the Gunflint Trail, always exploring the great outdoors. Being involved in the hiking and writing of Gentle Hikes seemed like an extension of those good feelings and brought a sense of nostalgia and fond memories. From those early beginnings, Melanie still enjoys a sense of adventure and the love of exploration. She and her husband encourage a love of nature in their children and now their grandchildren. And they continue to hike and explore whenever and wherever they happen to be. Melanie enjoys sewing and quilting, spending time with family and friends, snowshoeing in the quiet winter wonderland, and working with her husband on home projects.