Shinrin Yoku: The Japanese Art of Forest Bathing (Hardcover)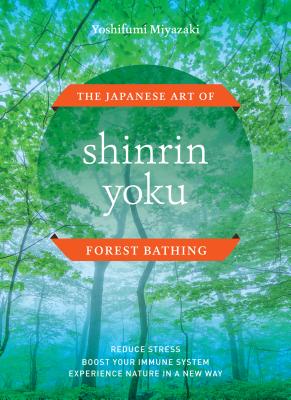 $16.95

At Distributor - We Can Usually Get It in 3-8 Days!
Description
---
A New York Times 2018 Holiday Gift Selection

Shinrin-yoku is the Japanese practice of seeking a deeper connection with nature by spending intentional time surrounded by trees. Commonly referred to as forest bathing, the meditative practice involves all of our senses and has extraordinary effects on health and happiness. In Shinrin Yoku, Yoshifumi Miyazaki explains the science behind forest bathing and explores the many health benefits, including reduced stress, lower blood pressure, improved mood, and increased focus and energy. This useful guide also teaches you how to bring the benefits of the forest into the home through the use of essential oils, cypress baths, flower therapy, and bonsai. Whether you are exploring a city park, a woodland area, or even the trees in your own backyard, Shinrin Yoku will help you detox from the stress of modern life by opening your eyes to the healing power of trees. 
 
About the Author
---
Yoshifumi Miyazaki is a university professor, researcher and the deputy director of Chiba University's Centre for Environment, Health, and Field Sciences. He has published several books on the effects of forest therapy, and in 2000 Yoshifumi received the Agriculture, Forestry, and Fisheries Minister Award for clarifying the health benefits. He is also the winner of an award from the Japan Society of Physiological Anthropology.
Praise For…
---
"Miyazaki does an excellent job of clearly communicating both the dangers of stress and how forest therapy helps reduce its impacts." —The Dirt

"This beautiful, small, quiet book contains a powerful message. By connecting with nature we can enrich our lives and find relief from a world that shows no sign of slowing down. Give yourself this gift, and then share with others." —Pacific Horticulture

"For those interested in giving shinrin-yoku a try, Miyazaki's book is an excellent introduction." —NYBG's Plant Talk

"An outstanding job of explaining the history and meaning behind the practice." —New Spirit Journal ​