Baby-Led Weaning: The Essential Guide to Introducing Solid Foods—and Helping Your Baby to Grow Up a Happy and Confident Eater (Paperback)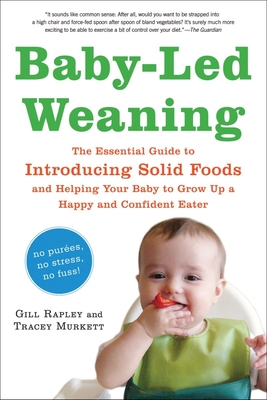 $14.95

Special Order - Arrival Times Vary
Description
---
The Natural, No-Fuss, No-Purée Method for Starting Your Baby on Solid Foods

"[Baby-Led Weaning] makes life so much easier." —The Times, London
Baby-Led Weaning explodes the myth that babies need to be spoon-fed and shows why self-feeding from the start of the weaning process is the healthiest way for your child to develop. With baby-led weaning (BLW, for short), you can skip purées and make the transition to solid food by following your baby's cues.
At about six months, most babies are ready to join the family at the kitchen table and discover food for themselves. Baby-Led Weaning is the definitive guide to this crucial period in your child's development, and shows you how to help your baby:
Participate in family meals right from the start
Experiment with food at his or her own pace
Develop new abilities, including hand-eye coordination and chewing
Learn to love a variety of foods and to enjoy mealtimes
Baby-led weaning became a parenting phenomenon in the UK practically overnight, inspiring a fast-growing and now international online community of parents who practice baby-led weaning—with blogs and pictures to prove it! In Baby-Led Weaning, world-leading BLW authority Gill Rapley and early BLW practitioner and coauthor Tracey Murkett deliver everything you need to know about raising healthy, confident eaters.
About the Author
---
Gill Rapley, PhD, has studied infant feeding and child development for many years. She worked as a public health nurse for over twenty years and has also been a midwife and a voluntary breastfeeding counselor. She developed the theory of baby-led weaning while studying babies' developmental readiness for solids as part of her master's degree and has since been awarded a PhD for research comparing spoon-feeding with self-feeding. Gill lives in Kent, England, with her husband and has three grown children, all of whom tried their best to show her that they didn't need any help with solid foods.

Tracey Murkett is a writer, journalist, and breastfeeding peer supporter. After following baby-led weaning with her own daughter, she wanted to let other parents know how enjoyable and stress-free mealtimes with babies and young children can be. She lives in London with her partner and their daughter.
Praise For…
---
"I've been telling mothers for years that when babies start grabbing food from the table, they are ready for solids. I had the pleasure of observing this with my own children. What I love about this book is the joy and zest the authors put into parenting, their commonsense approach, and their faith that babies will do the right things for themselves when the time is right. Baby-led weaning is easy, and it makes parenting fun!"
—Nikki Lee RN, MS, IBCLC

"Gill Rapley's work is amazing and makes so much sense. I recommend this groundbreaking book to every new mother I know. Read it. It will forever change the way you think about feeding your baby."
—Kathleen Kendall-Tackett, PhD, IBCLC, clinical associate professor of pediatrics, Texas Tech University School of Medicine, and coauthor of Breastfeeding Made Simple

STARRED REVIEW—"Nurse Rapley and freelance writer Murkett encourage parents to forgo the usual baby puree and move straight to whole foods while continuing to breastfeed primarily after a baby is six months old. Their arguments are scientifically sound, especially when it comes to muscle development in the mouth, and they address the anticipated counterarguments, e.g., the need for iron-fortified cereal at six months. Some parents will be concerned about their lax approach to the order of allowable foods and especially their lack of concern about nuts, but allergic warnings are given where necessary. If mine were little again, I would definitely try this. As long as mom is nursing, who says baby can't eat lamb chops?"
—Library Journal

"The benefits are great"
—Independent

"Sharing food with Mirah has turned out to be one of the great joys of parenting. Watching her respond to the pleasures of ripe tomatoes, curried rice noodles, and all kinds of meats and vegetables has made mealtime a much more enjoyable experience for all three of us. We can tell she is learning through all of her senses about how various substances respond to being crumbled or dropped or mushed. She seems to really like that she is eating the same foods as we are, and since we are generally sharing the same meal, I am more likely to make us all something healthy."
—Aimee Pohl, Babble.com

"I see many happy children, who chose their own food independently and eat at their own pace."
—Stefan Kleintjes, pediatric dietitian

"It's been wonderful, and very funny, watching her discover food, her great concentration in navigating new textures and exploring new tastes… One of our favourite things about BLW is its emphasis on families eating together."
—Nicola Kent, The Guardian

"You just hand them the food in a suitably-sized piece and if they like it they eat it and if they don't they won't… That's the essence of Baby Led Weaning. No purees, no ice cube trays, no food processor, no potato masher . . . just you and your child, eating food that you enjoy with you and your family . . . My baby is nearly seven months old and . . . ADORED feeding herself while her parents ate their own meals. I can't even begin to tell you how pleasant it is to eat in a restaurant with your Baby Led Weaning child chomping on a piece of bread and butter or a chunk of cucumber from your salad beside you."
—Aitch, founder of Babyledweaning.com

"As a child psychiatrist, I have worked on a team for children with feeding difficulties… One of the main things I would recommend to these families is giving the child control, and allowing them to have small successes to build on rather than pushing food on them and ending up in a battle . . . I believe strongly in baby led play (again, something I would teach at work) and baby led routines rather than routines being forced on babies to suit parents' lifestyles (as suggested by at least one popular parenting book). So this intuitively makes sense to me."
—Child and Adolescent Psychiatrist (psychiatristparent.wordpress.com)

"It sounds like common sense: after all, would you want to be strapped into a high chair and force-fed spoon after spoon of bland vegetables? It's surely much more exciting to be able to exercise a bit of control over your diet."
—The Guardian

"[Baby-led weaning] makes life so much easier."
—The Times, London