How to Argue With a Racist: What Our Genes Do (and Don't) Say About Human Difference (Paperback)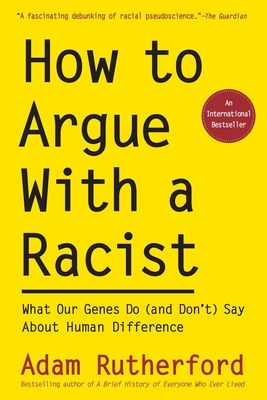 Description
---
This authoritative debunking of racist claims that masquerade as "genetics" is a timely weapon against the misuse of science to justify bigotry—now in paperback

Race is not a biological reality.
Racism thrives on our not knowing this.

In fact, racist pseudoscience has become so commonplace that it can be hard to spot. But its toxic effects on society are plain to see: rising nationalism, simmering hatred, lost lives, and divisive discourse. Since cutting-edge genetics are difficult to grasp—and all too easy to distort—even well-intentioned people repeat stereotypes based on "science." But the real science tells a different story: The more researchers learn about who we are and where we come from, the clearer it becomes that our racial divides have nothing to do with observable genetic differences. The bestselling author of A Brief History of Everyone Who Ever Lived explains in this explosive, essential guide to the DNA we all share.
About the Author
---
Adam Rutherford is a geneticist, science writer, and broadcaster. He studied genetics at University College London, and during his PhD on the developing eye, he was part of a team that identified the first known genetic cause of a form of childhood blindness. As well as writing for the science pages of The Guardian, he has written and presented many award-winning series and programs for the BBC, including the flagship weekly Radio 4 program Inside Science, The Cell for BBC Four, and Playing God (on the rise of synthetic biology) for the leading science series Horizon. He is also the author of How to Argue With a Racist, an incisive guide to what modern genetics can and can't tell us about human difference; The Book of Humans, a new evolutionary history that explores the profound paradox of the "human animal"; A Brief History of Everyone Who Ever Lived, finalist for the National Book Critics Circle Award in nonfiction; and Creation, on the origin of life and synthetic biology, which was short-listed for the Wellcome Book Prize.
Praise For…
---
An International Bestseller • One of New Scientist's 13 Best Science and Technology Books of 2020 • A Goodreads Choice Awards Best Book of 2020, Science Technology, Runner Up • One of BBC Science Focus Magazine's 28 Best Nonfiction Books of 2020 • One of Big Think's 10 Best Science and Technology Books of 2020 • A Daily Telegraph Book of the Year

"A fascinating and timely refutation of the casual racism on the rise around the world. The ultimate anti-racism guide."—Caroline Criado Perez, author of Invisible Women

"A fascinating debunking of racial pseudoscience . . . engaging and enlightening."—Manjit Kumar, The Guardian

"Nobody deals with challenging subjects more interestingly and compellingly than Adam Rutherford, and this may be his best book yet. This is a seriously important work."—Bill Bryson
 
"This book [shows] that race is biologically meaningless and that modern genetic science is a racist's worst enemy, [revealing] that you are related to royalty, that every Nazi had Jewish ancestors and that you share no DNA with half your ancestors. An essential book on a critical issue."—David Olusoga, professor of public history at the University of Manchester
 
"Smashes race myths that plague society."—Layal Liverpool, New Scientist
 
"[Proves] that the concept of 'race' has no basis in science . . . an excellent overview of human genetics."—Kirkus Reviews
 
"A book that could save lives."—Kathryn Paige Harden, The Spectator

"Rutherford equips readers with the tools to discredit the prejudices of both racists and well-intentioned people. Despite its fraught history, scientists' understanding of genes has long since converged on one truth: race, while very real as a social construct, has no foundation in science."—Scott Hershberger, Scientific American
 
"Short but impactful. . . . Rutherford's work provides ample ammunition to anyone wishing to use science to combat racial stereotypes."—Publishers Weekly

"Bringing together compelling stories, irreverent humor, and informed science reporting, Rutherford debunks some of the most pernicious myths and fallacies about race. . . . Recommended. All readers."—Choice

"Essential reading in an age of false science, resurgent racism, and conspiracy theory—and the perfect antidote to racial bigotry."—Simon Sebag Montefiore, historian and author of The Romanovs
 
"As timely as it is invigorating and important."—Peter Frankopan, professor of global history at the University of Oxford
 
"Lucid, enlightening, witty, and delightful."—Kate Fox, codirector of the Social Issues Research Centre
 
"A counter-blast to those who would use science to justify prejudice."—Tom Gatti, New Statesman
 
"Timely and accessible."—The Bookseller, Editor's Choice

"Remarkable. . . . The reader is provided the fascinating scientific weaponry to confidently take on questions about race, genes, ancestry. Ultimately, Rutherford's book is a challenge against the manipulation, misrepresentation, and abuse of science to justify hatred and prejudice."—Big Think

"Urgently relevant. . . . Many nations have seen an efflorescence of anti-racist reading lists. Rutherford's book is rightfully on them."—Alondra Nelson, Nature

"Rutherford offers a general audience a compelling scientific refutation of racist claims that still enjoy wide circulation."—Literary Review of Canada

"A timely discussion on how to counter racist arguments from a scientific point of view. . . . Rutherford systematically deconstructs where and how [racist] biases arose . . . and why the science actually does not support these claims."—Shelf Awareness

"Rutherford debunks [racism] brilliantly. What he shows, carefully and in detail, is that genetics, properly understood, doesn't support any of this disgusting nonsense."—UnHerd
 
"[Rutherford] is an excellent science communicator. His toolkit arrives at an opportune time, when open expression of bigotry is increasingly pushing its way into popular discourse. . . . Highly recommend."—Greg Laden, American Scientist

"Don't get frenetic when racists cite genetics: just use hard science to prove them wrong."—Evening Standard
 
"Poignant. . . .  A 21st-century manifesto for understanding human evolution and variation related to race. It is also a timely weapon against the misuse of science to justify bigotry and casual racism."—Cosmopolitan
 
"Adam Rutherford is the perfect writer to arm you with evidence."—Claudia Hammond, author of Time Warped

"Doubtlessly one of the most important reads of the year. But it's arguably the most interesting too . . . engaging and thought-provoking throughout."—Thomas Ling, BBC Science Focus Magazine