Humble: Free Yourself from the Traps of a Narcissistic World (Hardcover)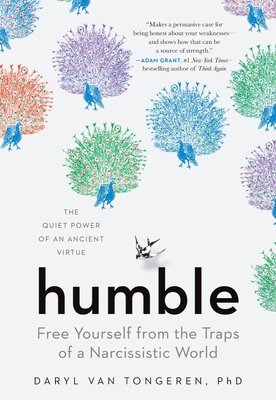 $26.95

At Distributor - We Can Usually Get It in 3-8 Days!
Description
---
A practical and philosophical deep dive into humility: how it can build confidence, foster honesty about our strengths and limitations, and help us achieve success
Daryl Van Tongeren is a leading researcher on the science of humility. In Humble, he gives this unassuming trait a much-needed rebrand, explaining why the humble enjoy a more secure sense of self, handle challenges better, and, indeed, are often the people we like the most.

That's not to say Van Tongeren has mastered humility. (When he asked his wife to rate him on a scale from 1 to 10, she gave him a 4.) But in a world where narcissism is on the rise—where the shameless dominate social media and getting noticed is considered key to getting ahead—it's not surprising that we all have a bit of work to do on our sometimes self-sabotaging egos.

In its true sense, humbleness is the happy medium between self-denial and self-obsession: It grants the holder an accurate view of reality. By seeing where we have room to improve, we can grow. By admitting our doubts, we can learn. And by acknowledging our own worldview as one among many, we can truly connect with others despite our differences.

A thought-provoking call to reexamine our values, Humble signals a paradigm shift—from the "self-esteem movement" run amok to a better world in which we lift up one another.
About the Author
---
Daryl Van Tongeren, PhD, is an associate professor of psychology at Hope College. As a social psychologist, he has published over 160 scholarly articles, coauthored The Courage to Suffer (Templeton Press, 2020), and currently serves as associate editor for the Journal of Positive Psychology. His research, which has won numerous grants and awards, has been covered by The New York Times, Washington Post, Chicago Tribune, NPR affiliate radio stations, Scientific American, and Men's Health, among other media outlets.
Praise For…
---
A University of California Favorite Book of 2022

"Van Tongeren's book dispels many myths about what humility is, including how it is different from modesty and can actually go hand in hand with confidence. . . . Ultimately, humility is a skill that can not only help us as individuals in our close relationships but also as a society confronting the pressing issues of our time."—Greater Good

"In a world filled with overconfidence, there's no virtue more underrated than humility. In this lucid, thoughtful book, a leading expert makes a persuasive case for being honest about your weaknesses—and shows how that can be a source of strength."—Adam Grant, #1 New York Times–bestselling author of Think Again and host of the podcast WorkLife

"A new book on the quiet power of restraint."—Associated Press

"It used to be that humility was one of the most underestimated of the virtues. Not anymore. Following the latest science, Daryl Van Tongeren shines light on this ancient, old-fashioned virtue in a brand-new way. Unpacking the many meanings, layers and levels of humility, he clearly and compellingly demonstrates why it is so necessary in today's world. Humility appears to be so small, so modest, so unassuming, so humble. But we should not be deceived by its appearance."—Robert Emmons, editor-in-chief of The Journal of Positive Psychology and author of The Little Book of Gratitude

"Daryl Van Tongeren has written an important book that can provide a much-needed antidote to the narcissism and the crisis of meaning that pervades our society."—Tal Ben-Shahar, PhD,New York Times–bestselling author of Happier and Happier, No Matter What

"Narcissism and self-promotion have seduced millions into wasting their lives, pretending to be someone they're not. But Dr. Van Tongeren shows us a way out: the ancient virtue of humility. If you're tired of the superficiality of modern life, Humble has the antidote. It's a road map for getting our feet back on the ground."—Daniel Z. Lieberman, MD, coauthor of The Molecule of More

"It's a delightfully ironic fact of science: when you understand the power of humility, you discover a more self-confident way to engage with the world. A superior self through selflessness—who knew?"—Michael E. Long, coauthor of The Molecule of More

"We live in a world where big egos stand out and seemingly get rewarded. In his fantastic new book, Dr. Van Tongeren makes a compelling case for humility as a virtue: It is not about avoiding life, but about confronting ourselves, our relationships, and our world with openness and willingness to accept that we do not hold all the answers. Humble can inspire growth and make for a truly rich life."—W. Keith Campbell, PhD, author of The New Science of Narcissism

"An enlightening book on a neglected virtue. Backed by scientific research and leavened with helpful anecdotes, Van Tongeren makes a convincing case that humility can improve how we see (and treat) ourselves, others, and the world around us."—Michael McCullough, professor of psychology, University of California, San Diego, and author of The Kindness of Strangers

"In this increasingly self-absorbed era riddled with selfies and vanity, humility is harder than ever to find. Social psychologist Van Tongeren (Hope Coll.) draws from years of graduate and post-graduate research to define what it means to be humble and how this endangered virtue could bring connection and understanding in a divided and narcissistic world. . . . Readers looking to better understand interpersonal relationships will learn much."—Library Journal