Salt & Time: Recipes from a Russian Kitchen (Paperback)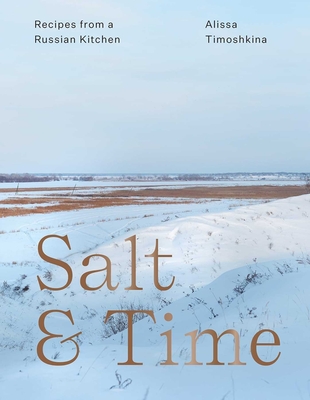 $27.95

At Distributor - We Can Usually Get It in 3-8 Days!
Description
---
A collection of delicious modern recipes from Siberia and beyond from the chef and author who founded #CookforUkraine

Salt & Time will transform perceptions of the food of the former Soviet Union, and especially Siberia—the crossroads of Eastern European and Central Asian cuisine—with 100 inviting recipes adapted for modern tastes and Western kitchens, and evocative storytelling to explain and entice. Why not try the restorative Solyanka fish soup (a famous Russian hangover cure), savor the fragrant Chicken with prunes or treat yourself to some Napoleon cake.

In Alissa Timoshkina's words:

"Often we need distance and time, both to see things better and to feel closer to them. This is certainly true of the food of my home country, Russia—or Siberia, to be exact. When I think of Siberia, I hear the sound of fresh snow crunching beneath my feet. Today, whenever I crush sea salt flakes between my fingers as I cook, I think of that sound. In this book, I feature recipes that are authentic to Siberia, classic Russian flavor combinations and my modern interpretations. You will find dishes from the pre-revolutionary era and the Soviet days, as well as contemporary approaches—revealing a cuisine that is vibrant, nourishing, exciting and above all relevant no matter the time or the place."
About the Author
---
Alissa Timoshkina is a chef, curator, and supper club host with a PhD in film history. Her popular cinema-supper club KinoVino offers film screenings and sit-down dinners with unique menus inspired by the films, and a private events branch exploring the cuisine of the former Soviet Union. Her recipes are featured in the Guardian, Red Magazine, Olive Magazine, the Independent, and House & Garden. In 2017, she was shortlisted for the 2017 Young British Foodie Awards. She has a podcast called "MotherFood: conversations that nourish the modern mother," in its third season, and is one of the founders of #CookforUkraine, a campaign using the language of food to raise awareness and funds for the humanitarian crisis unfolding in Ukraine.
Praise For…
---
"If anyone had to write a Russian cookbook now, it would have to be her, and her book will end up being a classic."
— —Olia Hercules, Ukrainian author of Mamushka

"A debut that is simultaneously austere and sensuous… offering old-world dishes either as she [Alissa Timoshkina] remembers them or in modern variations… At once contemporary and classic, this collection provides an inviting introduction to a rugged cuisine that has stood the test of time."
— —Publishers Weekly

"In a debut that is simultaneously austere and sensuous, supper club host Timoshkina taps into the culinary history of Russia. Having lived in Siberia until age 15, she looks back to the foods of her youth, offering old-world dishes either as she remembers them or in modern variations. She recalls that squid poached in smetana sauce (sour cream) was the 'ultimate comfort dish' of her childhood, and then presents other rich recipes, such as profiteroles with chicken liver pâté, and an extravagant salmon and caviar blini cake. Burrowing into Russian history, Timoshkina recreates such dishes as a crayfish and spinach savory rice pudding that dates back to 1861 and a Napoleon cake that originated in 1912 to mark the 100th anniversary of the failed French invasion of Russia. Despite Siberia's remote location, it is not without its international culinary influences: there is a Soviet-Korean ceviche called khe as well as an updated Polish stew, vegan bigos with smashed new potatoes. As for the traditional Russian vodka, Timoshkina shakes things up with four different infusions, including pine nut, and a silver birch tears cocktail that calls for a half-cup of sap from a silver birch. At once contemporary and classic, this collection provides an inviting introduction to a rugged cuisine that has stood the test of time."
— —Publishers Weekly

"For readers expecting meat-driven dishes with fresh vegetables replaced by rye breads of all shapes, sizes, and tastes, Siberian native… Timoshkina corrects the misperceptions of her homeland's food. She sets out to demonstrate that Russian cuisine, combined with foods from the Ukraine, Central Asia, and other lands, is far more than caviar and blinis… Well-composed color photographs and layouts give this book a true flavor, while narrative-like instructions welcome all into a new look at a very old world."
— —Booklist (Starred Review)

"For readers expecting meat-driven dishes with fresh vegetables replaced by rye breads of all shapes, sizes, and tastes, Siberian native and transplanted Londoner Timoshkina corrects the misperceptions of her homeland's food. She sets out to demonstrate that Russian cuisine, combined with foods from the Ukraine, Central Asia, and other lands, is far more than caviar and blinis. Much of it is in fact derived from the Mediterranean table: the abundance of small plates throughout the meal, the love of dips and fermented foods, and the myriad culinary influences—from the Egyptian dukkah (nut-spice topping) and Turkish baba ganoush (herein re-titled as babushka ganoush in honor of Timoshkina's grandmother) to plov or pilaf and a honey tiramisu. A few ingredients—bird cherry, tvorog (similar to cottage cheese), and fiddlehead ferns, among others—might stump even avid I'll-try-anything cooks, but the author does provide a few mail-order/online sources. Well-composed color photographs and layouts give this book a true flavor, while narrative-like instructions welcome all into a new look at a very old world."
— —Booklist (Starred Review)

"A Russian expat updates classic regional dishes for modern kitchens in this stunning cookbook ' In Salt & Time, Alissa Timoshkina writes with passion and nostalgia about the dishes of her home country of Russia, food €˜tinted with the stereotypes of the Cold War and obscured by the complexities of contemporary Russian politics.' Thoughtful introductions lead into each recipe, giving Timoshkina's updated versions of classic Russian dishes both historical and personal context. She describes her recipe for borscht as €˜taking a bit (okay, a lot) of creative license" and €˜iconoclastic.' She offers three alternative fillings for the signature Siberian dumpling pelmeni and updates a €˜mundane Soviet creation' of a cookie into something sophisticated in her recipe for glazed sandwich cookies with plum jam. With stunning photographs of both the dishes as well as the Siberian landscape scattered throughout, Salt & Time is a testament to a time-honored cuisine that is often overlooked in the world of modern cooking.
— Shelf Awareness (Starred Review)

We all know that international cookbooks hold a special place in my heart. So when Interlink Publishing, which regularly serves up rich and varied cuisines, offered a copy of Alissa Timoshkina's Salt & Time: Recipes from a Russian Kitchen, I was thrilled ' The Siberian recipes defy stereotypical notions of a barren landscape, and exhibit both classic flavors as well as influences from neighboring countries. This book is absolutely beautiful.
— Mary Bilyeu, The Blade

Salt & Time is a welcoming addition to cooks' libraries, full of good information about a cuisine that is often misunderstood ' presented in easy-to-follow recipes, and there's something for cooks at every level to enjoy.
— –Foreword (Starred Review)

Some cookbooks take you on a journey that is as poetic as it is geographical and culinary, and Salt & Time is just such a one ... enthusiastic, often playful, and full of encouragement to cook dishes that are invitingly unfamiliar.
— Nigella Lawson

"One flick through this book ... shows the region's cuisine take form in dazzling vibrancy.

Timoshkina corrects the misperceptions of her homeland's food. She sets out to demonstrate that Russian cuisine, combined with foods from the Ukraine, Central Asia, and other lands, is far more than caviar and blinis ' Well-composed color photographs and layouts give this book a true flavor, while narrative-like instructions welcome all into a new look at a very old world.
— Booklist (Starred Review)