Beyond Borscht: Old-World Recipes from Eastern Europe: Ukraine, Russia, Poland & More (Paperback)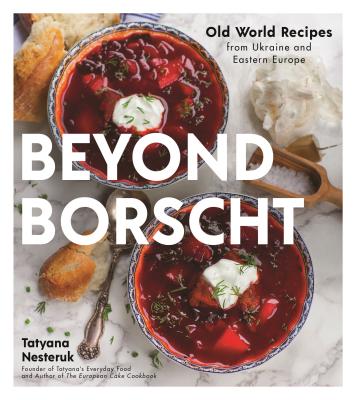 $25.00

Special Order - Arrival Times Vary
Description
---
Authentic Recipes for the Hearty, Comforting Foods of Ukraine

Bring the warming, fresh and savory flavors of Ukraine and Eastern Europe into your kitchen. This beautiful and personal collection was born from Tatyana Nesteruk's authentic Ukrainian family recipes passed down through generations. From growing up in a close-knit Slavic community that gathered daily to celebrate food, Tatyana learned the art of honoring tradition while also making the recipes accessible for the modern home cook. Her simple instructions and treasure chest of time-honored dishes will have you flawlessly re-creating the food you love—or have yet to discover!

Capturing the classic tastes of Eastern Europe is easy, thanks to Tatyana's nifty cooking hacks, such as rinsing cottage cheese to quickly transform it into the beloved tvorog (farmer's cheese). Dive into timeless recipes like Beef and Cheese Piroshki (hand pies), Smoked Salmon and Caviar Blini and Classic Beef Borscht. Whip up epic main dishes like Shashliki (Shish Kebabs), Plov (Beef and Garlic Rice Pilaf) and Potato Latkes with Chicken, and pair them with delicious sides like Mushroom Buckwheat and Olivier Potato Salad for a truly unbeatable spread. With desserts like Sweet Cherry Pierogi and Poppy Seed Roll, you'll be transported back to the old world with each delicious bite. If you grew up eating this incredible cuisine, visited this part of the world and can't stop dreaming of the food, or are trying these authentic dishes for the first time, the unique, comforting and nostalgic flavors packed into Tatyana's recipes will send your taste buds on an unforgettable journey.
About the Author
---
Tatyana Nesteruk is the author of The European Cake Cookbook and the creator of Tatyana's Everyday Food. She's appeared on Today and Good Day Sacramento. Tatyana was born in Yekaterinburg, Russia, and raised in the United States in a tight-knit Slavic community of family primarily from Ukraine, Russia and Poland. She now lives in Sacramento, California.
Praise For…
---
"Tatyana's recipes elevate the classic Slavic dishes we remember from our childhood. Russian and Ukrainian cuisine is absolutely worth discovering and this collection is a treasure."
—Natasha Kravchuk, founder of Natasha's Kitchen

"I am beyond excited for Tatyana's cookbook of traditional comfort foods streamlined for today's busy lifestyle. Bring on the chicken shashliki and apple piroshki, please!"
—Archana Mundhe, cookbook author and founder of Ministry of Curry