The Executor's Handbook: A Step-by-Step Guide to Settling an Estate for Personal Representatives, Administrators, and Beneficiaries, Fourth Edition (Paperback)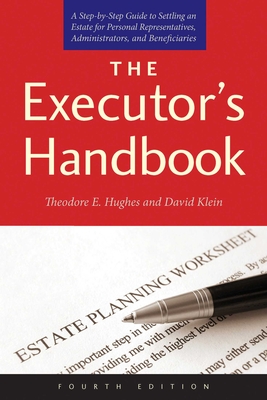 $14.95

At Distributor - We Can Usually Get It in 3-8 Days!
Description
---
Acting as the executor, representative, or administrator of an estate is a complicated and time-consuming task. It's time consuming, complicated, and emotionally taxing. Here is a comprehensive guide to help you understand the basics of the procedures that settle an estate

Readers say it best: "This book covers all aspects of estate settlement in a complete and thorough manner.", "The book is written in easy-to-understand terms, with lots of good practical advice.", "I actually bought it to place in my file cabinet along with my Trust documents, Living Will and other documents", "We liked it so much, I bought this book for a friend who was handling a new estate."

.In practical and straightforward language, it covers all aspects of estate administration, including funeral arrangements, organ donation, administering probate, dealing with the deceased's assets and liabilities, and personal representative's compensation. You will understand not only your responsibilities but the responsibilities of those who will be assisting you. Tables of state income tax rates, intestacy laws, and state-by-state probate requirements are also included, and a glossary, index, and list of recommended works complete this handbook.
About the Author
---
Theodore E. Hughes, Michigan Assistant Attorney General for Law (Ret.), is a lawyer skilled in wills, trusts, and estate planning law. He has served as adjunct professor of law at Thomas M. Cooley Law School and an instructor at Michigan State University Evening College.

David Klein was a Professor Emeritus of social sciences and human development at Michigan State University. The two have co-written several books on finance and estate planning, including The Handbook to Wills, Funerals, and Probate; Protecting your Money: The Essential Guide To Personal Finance & Estate Planning For Gay and Lesbian Couples and Individuals; and The Parents' Financial Survival Guide.