Marlena: A Novel (Hardcover)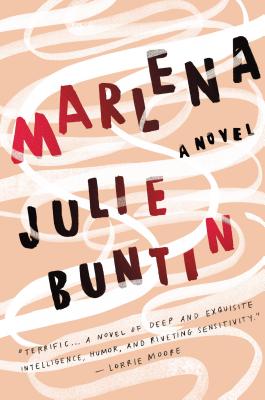 $26.00

Special Order - Arrival Times Vary
April 2017 Indie Next List
---
"I can't believe this is a debut novel: the writing is so assured; the prose so exquisite. Buntin is a master of word choice, and every sentence felt deliberate and precise. I quickly got sucked into this story about a pair of teenage girls, one doomed, one not. It was a quick read, but one I found myself lingering over. I'd recommend Marlena to fans of Megan Abbott's dark, twisty books about girlhood - this is a similarly fierce read!"
— Lauren Peugh (E), Changing Hands Bookstore, Tempe, AZ
Description
---

A National Book Critics Circle Leonard Prize Finalist
Longlisted for the Center for Fiction First Novel Prize
Named a Best Book of the Year by Vogue, BuzzFeed, The Washington Post, Esquire, Harper's Bazaar, NPR, NYLON, Huffington Post, Kirkus Reviews, Barnes & Noble
Chosen for the Book of the Month Club, Nylon Book Club, and Belletrist Book Club
Named an Indie Next Pick and a Barnes and Noble Discover Pick

The story of two girls and the wild year that will cost one her life, and define the other's for decades

Everything about fifteen-year-old Cat's new town in rural Michigan is lonely and off-kilter until she meets her neighbor, the manic, beautiful, pill-popping Marlena. Cat is quickly drawn into Marlena's orbit and as she catalogues a litany of firsts—first drink, first cigarette, first kiss, first pill—Marlena's habits harden and calcify. Within the year, Marlena is dead, drowned in six inches of icy water in the woods nearby. Now, decades later, when a ghost from that pivotal year surfaces unexpectedly, Cat must try again to move on, even as the memory of Marlena calls her back.

Told in a haunting dialogue between past and present, Marlena is an unforgettable story of the friendships that shape us beyond reason and the ways it might be possible to pull oneself back from the brink.
About the Author
---
Julie Buntin is from northern Michigan. Her work has appeared in The Atlantic, Cosmopolitan, O, The Oprah Magazine, Slate, Electric Literature, and One Teen Story, among other publications. She teaches fiction at Marymount Manhattan College, and is the Director of Writing Programs at Catapult. She lives in Brooklyn, New York. Marlena is her debut novel.
Praise For…
---
"At the center of Julie Buntin's debut novel is the kind of coming-of-age friendship that goes beyond camaraderie, into a deeper bond that forges identity; it's friendship as a creative act, a collaborative work of imagination. . .This generous, sensitive novel of true feeling. . . sweeps you up without too much explication, becoming both a painful exorcism and a devoted memorial to friends and selves who are gone." -The New York Times Book Review

"Excellent....a wild, gorgeous evocation...[Buntin's] lyricism is precise and revelatory, capable of great beauty and, when called for, great ugliness. Marlena is a novel about youth—a time of splendor and squalor. Buntin make us see, hear and feel both." -The San Francisco Chronicle

"A vivid portrait of a friendship between two teen girls in a troubled community that captures the heartaches of adolescence...At every turn, Buntin's prose flows with the easy, confident rhythms of an accomplished writer, and though there's really no mystery in the narrative, it reads nearly as compulsively as a thriller...The tale of two friends, one who succeeds and one who fails, isn't new—it's the entire focus of Elena Ferrante's wildly popular Neapolitan books. But it remains fascinating nonetheless, especially in Buntin's capable hands." -The Boston Globe

"Julie Buntin's standout debut novel, Marlena. . . cannily interweaves two different time frames to capture an electric friendship and its legacy. . . .Buntin is attuned to the way in which adolescent friends embolden and betray. . . .Cat is a keen observer of all the markers of upward mobility: in this case, a New York life complete with a literary job and a kind, stable husband who makes dinner. The novel's most impressive passages concern the watermark that remains, visible in the light of too many after-work martinis, and in attempts at adult friendships."-Vogue, "Girls on the Verge"

"It's still so early in 2017 that calling something a best debut novel of the year is a dicey thing to try and do. But if the Lorrie Moore blurb on the front cover doesn't tip you off that Julie Buntin's Marlena is a book you should be paying attention to, the fact that the author created something that could easily be called the millennial Midwestern version of the celebrated Elena Ferrante Neapolitan Novels crossed with Robin Wasserman's great Girls on Fire, should do the trick."-Rolling Stone

"In this icy and accomplished first novel, the intoxicating friendship between an inexperienced loner and her manic, wild-child neighbor continues to exert an irresistible pull on our narrator decades later"-O, the Oprah Magazine

"Julie Buntin's debut novel, Marlena.. . .joins a glut of recent novels that pair a retrospective female narrator with an extravagantly charismatic but troubled friend. . . .But Marlena,unlike the others, seems to be aware of the complicity of these kinds of stories in perpetuating the mystique of girls who go wrong. . . .Buntin vividly captur[es] the slow, blurry creep of intoxication. The value of novels like Marlena .. . is how insightfully they capture the complex intensity of girlhood that can't see yet how exquisitely vulnerable it is." -The Atlantic, "My Brilliant (Doomed) Friend"

"Riveting, assured debut novel ...Marlena is propulsive and gripping...Buntin excels at capturing the longing and intensity of being a teenager... Buntin. . .creat[es] characters so nuanced and true-to-life you'd swear you were remembering them yourself."-Bookforum

"A quiet, powerful look at addiction." -The New York Times, "3 Books Take a Deeper Look at the Opioid Epidemic"

"Magnetic" -Vogue

"A gorgeous, knowing debut that will make you reflect on the people who continue to shape our lives long after we leave them behind."–Marie Claire

"Haunting"–Harper's Bazaar

"[A] mesmerizing debut . . .Buntin weaves an indelible portrait of friendship."-Harper's Bazaar "14 Best new Books to Read in April"

"Marlena is a gorgeous portrayal of what it's like to be a teenage girl, and an even more gorgeous exploration of the events that transform the woman a teenage girl grows into."-Newsweek

"Just when you think you've read every story there is to tell about teenage female friendships, along comes Julie Buntin with a story about two female teenagers so haunting that you can barely remember the names of those other books you've read...Stunning."-Roar

"Stunning debut...stellar first novel...Buntin captures the agony, ecstasy, and lasting impact of adolescent friendship"-Real Simple

"Brilliant...Marlena so perfectly captures the bottomless need and desire of teenage girls and the reckless abandon with which they lives their lives...If you've ever been a teenage girl who loved and lived a little too hard for your own good, Marlena will resonate on a cellular level." -NYLON

"Astonishing first novel...Provocatively honest." -Pif

"I tore through this stunning debut. . . .maddening, complicated, beautiful, essential. . . .Buntin beautifully captures that time in our lives, when our reliance on our friends feels as profound as our need for water or air." -NYLON, 50 Books We Can't Wait to Read in 2017

"A novel that's as invigorating and devastating as an intense teenage crush, Marlena is about the people we encounter in life — no matter how briefly — who leave a permanent mark. Julie Buntin's stellar debut has the emotional sophistication of only the very best coming-of-age novels, so it's no wonder it comes with a glowing blurb from Who Will Run the Frog Hospital author Lorrie Moore." -Vulture, 25 of the Most Exciting Book Releases for 2017

"Julie Buntin's debut novel. . .will fill you with rich longing for the kind of faith and fascination friends once inspired. . .If you can swing it, I recommend meeting a good friend in a dark bar to discuss this book." -New York Magazine

"A buzzy debut that melds psychological suspense with pure literary fiction" -Huffington Post, 2017 Book Preview

"Riveting, heartrending"-BuzzFeed, "31 Incredible New Books You Need to Read This Spring"

"It's rare that a literary novel gives me the feeling that Marlena did. . . .compelling, compulsory. . .[An] ice-clean story of two girls, one doomed, one in thrall, and what will happen to drag them both down into traps of their own making."-LitHub, "15 Books to Read This April"

"Sensitive and smart and arrestingly beautiful, debut novelist Buntin's tale of the friendship between two girls in the woods of Northern Michigan makes coming-of-age stories feel both urgent and new. . . .Buntin creates a world so subtle and nuanced and alive that it imprints like a memory. Devastating; as unforgettable as it is gorgeous."–Kirkus, starred review

"A keenly observed study of teenage character. . .poignant and unforgettable"
–Publishers Weekly, starred review

"[A] vivid debut. . . .Buntin's prose is emotional and immediate, and the interior lives she draws of young women and obsessive best friends are Ferrante-esque." –Booklist, starred review

"The gifted young writer Julie Buntin has written a novel of deep and exquisite intelligence, humor, and riveting sensitivity. A terrific debut."–Lorrie Moore

"Julie Buntin captures that unique moment at the precipice of adulthood with emotional honesty and insight. She writes the kind of piercing, revelatory sentences you have to read to whomever is near, sentences you find yourself remembering years later."–Jonathan Safran Foer

"Marlena is absolutely lacerating. The most accurate portrait I've read about angst, lust, boredom, and the blindness of youth. It isn't merely a friendship chronicle, nor is it a profile of a doomed, beautiful girl. It's the story of a haunting, about the ghosts that never release us and continue to define us. Julie Buntin's command of her craft is so flawless you forget that it's fiction. I binge-read Marlena - sick to my stomach, with equal parts fear and nostalgia- stunned that any of us made it out of our adolescence alive." –Stephanie Danler, author of Sweetbitter

"The true magic of Julie Buntin is she writes stories that feel like your own. This gorgeous, assured debut captures the romance of young friendship, cutting deep with the finest touch."–Julia Pierpont, author of Among the Ten Thousand Things

"Marlena slayed me. Gorgeously written, with a sense of place so perfect I didn't even have to close my eyes to pretend I was there, this novel is rich and sensuous and beautifully conceived. Buntin writes about the all-consuming bond between teenage girls with urgency and suspense and despair. I loved every word."–Anton DiSclafani, bestselling author of The After Party and The Yonahlossee Riding Camp for Girls

"In Marlena, Julie Buntin revitalizes a classic story making it all her own with sensuous, vibrant prose and a narrator who feels deeply even as she feints certain painful truths about herself. In these pages I not only saw my own story, I came to understand it better. Many readers will too. This is a fierce and gorgeous debut."–Edan Lepucki, bestselling author of California