Chasing Lemurs: My Journey into the Heart of Madagascar (Hardcover)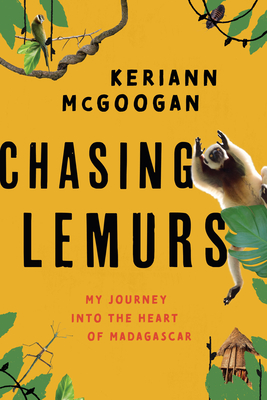 Description
---
This inspiring memoir of one woman's experience in the field is an exotic adventure story, a surprise journey of self-discovery, and a deeply personal appreciation of a place that's unlike any other.

At age twenty-five, graduate student Keriann McGoogan traveled into the wilds of Madagascar to study lemurs in their natural habitat and to set up a permanent field site in the remote northwest--a site to which she could later return to do research for her PhD in biological anthropology. Despite careful planning, the trip spiraled out of control. Food poisoning, harrowing backcountry roads, grueling hikes, challenging local politics, malaria, and an emergency evacuation would turn a simple reconnaissance into an epic adventure.

In an engaging narrative, the author vividly describes the challenges of life in an isolated forest region while also bringing to life the wonders of Madagascar's incredible biodiversity, especially its many varieties of lemurs. Sadly, these rare animals are the most endangered group of primates in the world.

At first accompanied by her thesis advisor, McGoogan is soon left alone when her mentor must return home. She carries on as the lone woman amid a small band of local male assistants, diligently conducting research on the lemur population around the camp. But when her right-hand man becomes delirious with malaria, she is forced to lead her team on a desperate three-day trek to safety.

This fascinating memoir is equal parts a journey of self-discovery, an adventure story, and a heartfelt appreciation of a wonderful island country teaming with unique species and peopled by the warm and welcoming Malagasies with their intriguing indigenous culture.
About the Author
---
Keriann McGoogan has a doctorate in biological anthropology and a master's in primatology. For nineteen months, she lived and worked in Madagascar, spending twelve-hour days following groups of lemurs through the northwestern dry forests. Previously, she had spent six months in Belize studying black howler monkeys. From 2009 to 2017, she taught courses in anthropology at the University of Toronto Mississauga, the University of Waterloo, and Trent University. An editor for an educational publisher, McGoogan is a board member for Planet Madagascar, a nonprofit that aims to conserve Madagascar's unique biodiversity while also helping the local Malagasy people.