Tiki: A Very Ruff Year (Paperback)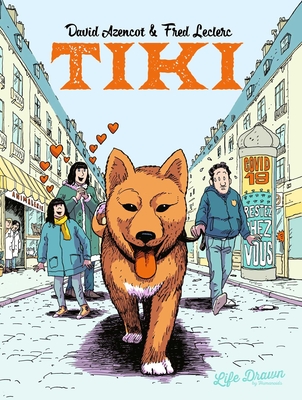 $22.99

Special Order - Arrival Times Vary
Description
---
In the midst of a quarantine, Fred buys Tiki, a puppy, to help bring a little joy to his family's life in isolation. What no one anticipated is that Tiki would turn their lives completely upside-down.

During the lockdown of November 2020, Fred, his girlfriend Sophie, and his daughter Lou seek a little comfort in the shape of a Shiba puppy named Tiki. But in the course of a single week, the adorable little furball manages to shatter everything in Fred's life: the comfort, the certainties, the links, the balances. In doing so, however, she manages to bring to light what truly matters: family.

Alternately humorous and tragic, this fictionalized autobiographical story questions that moment we decide to adopt a pet and the beautiful mess that we're often left with.
About the Author
---
David Azencot began his career as a copywriter in the advertising industry. After ten years, beginning in 2010, he became an author and humorist.

He has written many sketches (in which he often acted) for "Studio Bagel" and "Studio Movie" on Youtube, "Rendez-Vous with Kevin Razy" and "Le Dezapping" on Canal Plus, for "En famille" on M6 and "Docteur CAC" on France 5.

He is also a radio commentator on Rire & Chansons.

After " Fils de Pub " and " Inflammable " (2T Télérama), he wrote at the end of 2019 and performed for a unique date at the European " Animal ", on the occasion of the International Animal Rights Day. In June 2021, he launched " Ça va aller ", his new show.

He regularly performs in Parisian Comedy Clubs including the Européen, the Nouvelle Seine, the Point-Virgule and the Lucernaire. He has participated in many festivals, including the Montreux Comedy.

He co-wrote a detective novel, "La Fille d'Omaha", published by Toucan Noir. The text of Inflammable is also published by L'Harmattan.

Frédéric Leclerc has been an Art Director in advertising for twenty years. Passionate about travel books, he has always drawn, and has recently fully embarked on his childhood dream: to make comics.

His inspirations are countless and include the likes of Blutch, Blain, Larcenet, Benjamin Flao, Duchazeau, De Crecy, Frederik Peteers...