Conservation Sewn Notebook Collection (Set of 3): Large (Notebook With Lined Pages) (Paperback)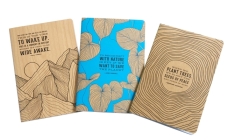 $14.99

At Distributor - We Can Usually Get It in 3-8 Days!
Description
---
Embrace the spirit of conservation with this beautiful notebook collection.

Drawing inspiration from the wisdom of leading conservationist and environmentalist Greta Thunberg, Jane Goodall, and Wangari Maathai, this set of three notebooks is a reminder to reconnect with nature and act on behalf of all living things and the planet we share. This set features one wood-paper covered notebook and two eco-friendly kraft paper notebooks with 64 lined pages each. All three notebooks feature responsibly forested FSC paper.

• GREAT VALUE: This notebook set includes three notebooks, making it a great buy for journaling and note-taking.

• KRAFT AND WOOD-PAPER COVERS: Two notebooks feature kraft covers, while the third notebook features a beautiful wood-paper cover. All notebooks feature responsibly forested FSC paper.

• PERFECT SIZE, 6" x 8.5": An ideal size for journaling or sketching, these notebooks are great for taking on the go.

• 64 PAGES EACH: These notebooks give you plenty of space to draw and write, while staying light and portable.

• INSPIRING QUOTES, BEAUTIFUL DESIGNS: Featuring a quotes from Greta Thunberg, Jane Goodall, and Wangari Maathai, these beautiful designs are sure to inspire you.
About the Author
---
Celebrated for its unwavering dedication to quality, Insight Editions is a publisher of innovative books, journals, and collectibles that push the boundaries of creativity, design, and production. Through its acclaimed film, television, and gaming program, Insight strives to produce unique books and products that provide new ways to engage with fan-favorite characters and stories. Under the program, Insight has published books covering the worlds of Star Wars, Game of Thrones, The Walking Dead, Destiny, Assassin's Creed, Halo, Diablo, World of Warcraft, and the Harry Potter films, among many others. Insight's award-winning art, photography, and sports titles celebrate the artistry and legacy of a wide range of subjects that include John Lennon, Kurt Cobain, Johnny Cash, and The Rolling Stones.

By combining rich subject matter, striking visuals, and exclusive content with imaginative design and production, Insight Editions strives to create unique keepsakes that celebrate the best in pop culture and make one-of-a-kind gifts for fans of all ages.