Heroine Worship (Heroine Complex #2) (MP3 CD)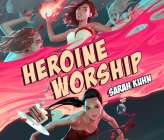 $19.99

At Distributor - We Can Usually Get It in 3-8 Days!
Other Books in Series
This is book number 2 in the Heroine Complex series.
Description
---
Once upon a time, Aveda Jupiter (aka Annie Chang) was demon-infested San Francisco's most beloved superheroine, a beacon of hope and strength and really awesome outfits. But all that changed the day she agreed to share the spotlight with her best friend and former assistant Evie Tanaka--who's now a badass fire-wielding superheroine in her own right. They were supposed to be a dynamic duo, but more and more, Aveda finds herself shoved into the sidekick role, which is not at all comfortable.It doesn't help that Aveda's finally being forced to deal with the fallout from her diva behavior and the fact that she's been a less than stellar friend to Evie, that she's suddenly getting the cold shoulder from the man she's loved for nearly a decade, or that the city has been demon-free for three months in the wake of Evie and Aveda's apocalypse-preventing battle, leaving her without the one thing she craves most in life: a mission.All of this is causing Aveda's burning sense of heroic purpose--the thing that's guided her all these years--to falter.In short, Aveda Jupiter is having an identity crisis.When Evie gets engaged and drafts Aveda as her maid-of-honor, Aveda finally sees a chance to reclaim her sense of self and sets out on a single-minded mission to make sure Evie has the most epic wedding ever. But when a mysterious unseen supernatural evil rises up and starts attacking brides-to-be, Aveda must summon both her superheroine and best friend mojo to take down the enemy and make sure Evie's wedding goes off without a hitch--or see both her city and her most important friendship destroyed forever.