Stock Market Investing for Beginner: The Bible 6 books in 1: Stock Trading Strategies, Technical Analysis, Options, Pricing and Volatility Strategies, (Paperback)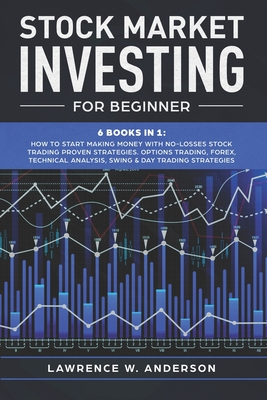 $32.90

Special Order - Arrival Times Vary
Description
---
second edition reprint
90% of traders lose money This rule is old as the market itself...
Do you want to be in the top 10%?
Are you trying to beat the S&P?
Would you like a beginners' guide that explains in depth the mechanisms of the market?
Building wealth in the long term is not an impossible task, but it requires the proper knowledge.
The purpose of this book is to help those people searching for the freedom that their 9 to 5 job will never give.
As a trader or investor, you can have much more flexibility... Live and work anywhere, or just simply take care of your personal finances in a professional and reliable way.
Stock Market Investing for beginners: The Bible, Describes every aspect of trading.
Each and every stile of it: Day trading, Swing Trading, Options trading... and how they are different form one another. You will choose the one that fits you the most, elaborating your personal strategies.
You could also become a long-term shareholder.
Trading and investing are obviously not gambling or a hobby, it takes dedication and it's not for undisciplined opportunity seekers.
This book will help you:
✓ Understanding How to Start, How to Develop a Strategy, What to Expect
✓ Rational Methodology in Stop-losses/Take-profits
✓ Trading Options/Forex/Futures
✓ How to Understand if a Stock is Overvalued/Undervalued
✓ How to Manage your Emotions when Stocks drop & Trading Psychology
✓ Chart Patterns and Technical Analysis
✓ Candlestick Trading
✓ And much more...
Also, this book is full of dozens of useful graphs and charts for better understanding.
If you are ready to create passive income, retire early and create your own financial freedom?
Then you must read the most exhaustive book available in the market right now
What are you waiting for?
You've procrastinated enough Click the "Buy Now" button and get the life you deserve