Persuasive Selling for Relationship Driven Insurance Agents (Paperback)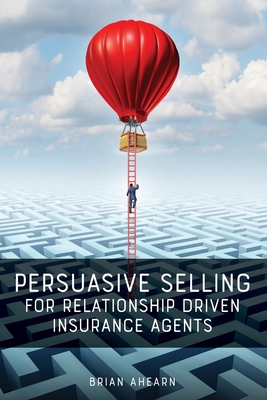 $16.99

At Distributor - We Can Usually Get It in 3-8 Days!
Description
---
With so many books to read and so little time to read, why do you want to pick up Persuasive Selling for Relationship Driven Insurance Agents? Simple, because you want to help your insurance clients and boost your sales at the same time.
"Persuasive Selling is a rare find, uncomplicating the intricate process of relationship sales with streamlined principles of human psychology. It's a gem." - Robert B. Cialdini, Ph.D., author of Influence Science and Practice
But don't be mistaken, this book is for more than just insurance agents. Anyone, agency or company, in the industry will benefit from reading Persuasive Selling for Relationship Driven Insurance Agents. Why? Because we all have to sell ourselves and our ideas. Even if you're not in insurance you'll benefit from understanding the sales process and how to ethically persuade at every step.
"Your basic recipe in this book is how to have winning relationships. Certainly, influencing people is part of that for many roles, but Brian's message is as important to a spouse, parent, child, bricklayer, janitor, lawyer, etc., as it is to someone selling insurance." - Dean Hildebrandt, President, Assurex Global
Insurance is a noble industry because it serves two primary functions: 1) insurance helps people get back on their feet after something bad has happened, and 2) insurance stimulates our economy. Despite those noble functions, buying insurance isn't a "feel good" purchase like getting a new car, big screen television, or buying a new home. Unlike those, you hope you never have to use your insurance products. That makes insurance a necessary evil in the eyes of many people, an expense most would rather do without.
As an insurance agent you have a lot going against you. But there's hope When you understand the psychology of persuasion - what causes one person to say yes to another - helping people fill their insurance needs becomes much easier.
"Brian Ahearn understands the insurance business and what it takes to win as an agent." - Tony Burkhart, President, Burkhart Insurance Agency, Inc.
What will you get from reading this book? Here is just a sampling of what you'll learn:
Learn scientifically proven psychology that will make it easier for clients to say yes to the protection you know they need.
Find out what psychology is best to use during each step of the sales cycle.
See how to DEAL with different personality types.
Understand how to build relationships quicker, easily deal with objections, and close more sales without coming across as "salesy".
Learn from real world insurance examples and case studies.
Read this book to increase your book of business, create an easier sales process, and actually enjoy working with your clients.