Finding a Job That Loves You Back: The Three Conversations That Will Take You From Wherever You Are To Wherever You Discover You Want To Go (Paperback)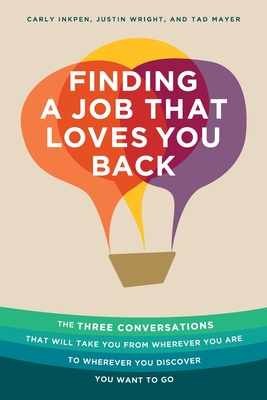 $17.97

At Distributor - We Can Usually Get It in 3-8 Days!
Description
---
Job searching: YIKES, right?
Wrong With the right framework and tools, finding a job can be empowering and full of skill-building, relationship-forming experiences. Each step in the process we've laid out in this book will increase your access to the opportunities you're looking for, and ultimately help you find a job that loves you back.
What exactly does that mean? A job that loves you back is one that you feel great about doing, and that allows you to live the life you want. This looks different for everyone, our book will help you figure out what it looks like for you.
We- that's us authors, Carly, Justin, and Tad- know that finding a job and thinking about your career path can be overwhelming. We know it can feel easier to stay stuck at an unsatisfying job than to start the daunting process of finding a new one. We also know that it can be tempting to take the first offer you get because there's a part of you that's afraid you'll never get another. These are human feelings, and you're not alone in having them, but you don't have to settle.
Our framework empowers you to get unstuck and bypass the fear and stress that often keeps people trapped on an unsatisfying career path. It's broken down into 3 distinct parts, making the whole process more manageable. And, our book is full of techniques, exercises, and sample scripts that will save you time and help you tackle it all with confidence and calm. Plus we share personal stories of how we successfully used the framework in our own career journeys...and some cringe moments we wish we could forget.
Inside this book you'll find the tactics you need to take control of your job hunt and to make the process manageable, and maybe even fun (or at the very least, pleasant and informative). You deserve a job that loves you back, so let's go get you one