Kusama: The Graphic Novel (Hardcover)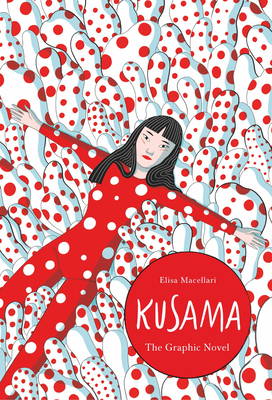 $19.99

At Distributor - We Can Usually Get It in 3-8 Days!
Description
---
From rural Japan to international icon - Yayoi Kusama has spent her remarkable life immersed in her art.

Follow her incredible journey in this vivid graphic biography which details her bold departure from Japan as a young artist, her embrace of the buzzing New York art scene in the 1960s, and her eventual return home and rise to twenty-first-century super-fame.
About the Author
---
Elisa Macellari is a Thai-Italian illustrator. Her clients include The New York Times, Corriere della Sera, Mondadori, Feltrinelli, and Nobrow Press. Her first graphic novel, Papaya Salad (2018), has been published in Italian, French, and Spanish.
Praise For…
---
"Macellari stylishly depicts Kusama's life and various works, including her famed orgies and nude performance art happenings, and she subtly and cleverly evokes the evolution of Kusama's iconic dots throughout. Art lovers who want their biographies with a heavy dose of the visual will appreciate this."
Booklist
"..The new
KUSAMA: A Graphic Novel
is set to be a thing of curiosity among art lovers and the mainstream audience alike."
DesignTAXI
"Overall, an excellent and ambitious retelling of this still enigmatic but important imaginative. The story by Elisa Macellari is hopeful and spectacular. The art by Macellari is gorgeous. Altogether a book that just scratches the surface why Kusama is so important aesthetics the world over."
Graphic Policy
"Elisa renders Kusama's fascinating life in a unique graphic style, offering a new way to look at one of the best-known and most intriguing artists of our time."
Creative Boom
"If you're gifting for someone who loves art, they might enjoy this stunning graphic novel." -
Mashable
"
Kusama: The Graphic Novel
by Elise Macellari is a graphic biography that captures her life and aesthetic with vibrancy and grace. The avant-garde pop artist has taken the world by storm, and there is much to love and learn through this accessible interpretation of Kusama and her work." -
Shelf Awareness
"Unlike pop-phenomenon Yayoi Kusama's own artwork, with its bright familiar colors that contribute to its near-universal popular appeal, Elisa Macellari's new graphic biography of Kusama uses mostly cool, hard-to-name, unsaturated colors (plus a bright amaranth red.) This relatively restrained palette makes sense, allowing the reader to focus patiently on Kusama's unusual and dramatic life story, as though through a stylish pair of welding goggles." -
International Examiner
,
"A vibrantly drawn and written look at the Japanese artist, the graphic novel seems a particularly apt format to read about international artist/celebrity Yayoi Kusama." - Northwest Arkansas Democrat Gazette
,
"[Macellari's] work is superlative here, capturing that which makes Kusama such an icon while grounding her in her life and exploring the thin line between genius and madness." -
SOLRAD Magazine
,
"Elisa Macellari's
Kusama: The Graphic Novel
, a new graphic biography published by Laurence King, is a welcome change, providing insight into the artist's pre-social media years. Rather than concentrating on the immersive and spectacular nature of the large-scale works that have fascinated museum-goers in recent years, the author, after introducing Kusama's childhood in the 1930s, mostly focuses on the artist's pivotal years spent in New York, starting in 1958, when she became part of the city's avant-garde circles."
Hyperallergic
"Kusama: The Graphic Novel is an ode to the power of art, which, on multiple occasions, saved Kusama."
Hyperallergic
"...full of lush imagery and dizzyingly vivid splashes of colour that are deliberately evocative of Kusama's own work..Many graphic biographies of artists attempt to replicate their subjects' style in their pages, but Macellari's Kusama achieves unique success in this effort."
PopMatters
"The distillation of Kusama's long, full, and atypical life to a trim, fast-flowing graphic novel is admirable. The text draws from multiple sources, listed at the book's end; chief among them is Kusama's autobiography.
Kusama: A Graphic Biography
is a wonderful introduction to a gifted artist. Even those familiar with her work will gain a deeper understanding and appreciation of the troubled imagination from which it spawned."
Foreword Reviews
"Macellari's splendid biography of Yayoi Kusama brings the artist's neurotic obsessions to life...Macellari's comics interpret and mirror Kusama's art in a way that honors it but doesn't imitate it. This satisfying glimpse into Kusama's world reveals a place both tidy and trippy."
Publishers Weekly
"For the first time, the remarkable Japanese artist's life is told in comic-book form."
artnet
"...entertaining, trippy chronicle of the Japanese artist's highs and lows"
The Art Newspaper
"If you're gifting for someone who loves art, they might enjoy this stunning graphic novel. One of the world's most recognisable artists, known for her plush, stuffed installations covered in polka dots, and her obsessive, repetitive drawings, the legendary Yayoi Kusama is simply made to be a comic hero."
Mashable