In Search of Gil Scott-Heron (Hardcover)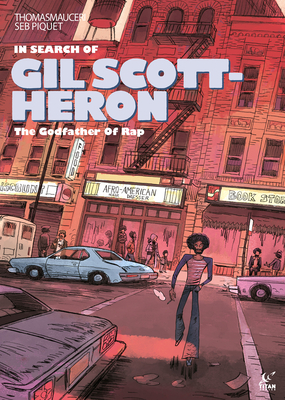 Description
---
Singer, poet and writer; considered to be the godfather of rap, Gil Scott-Heron is a myth and legend in the Afro-American music scene.

Through his personal experiences, Thomas Maucéri allows us to discover the life of this genius along with other aspects of America's recent history.

Gil Scott-Heron is one of the most important artists of the past 60 years, and is widely credited as laying the foundations for modern hip hop as we know it. This gorgeous graphic novel follows the author as he attempts to track down the elusive "Godfather of Rap" for an interview that never seems to happen, while examining his target's music, controversial life, and lasting political and cultural legacy.

Also included is a bonus article extensively reviewing Gil Scott-Heron's career and influence on music history.
About the Author
---
Thomas Mauceri for ten years tried to meet Gil Scott-Heron and accumulated many missed opportunities - he was either in prison or banned from leaving American territory… Paradoxically, the author was the first to learn of his death. On the day of Gill Scott-Heron's funeral, Thomas Mauceri witnessed a surreal scene: Kanye West improvising a concert of rare intensity. In 2000, Thomas Mauceri moved to the United States where he studied cinema. Then he returned to France and obtained his master's degree in Performing Arts. Thomas works as a documentalist and assistant director.

Seb Piquet is a French concept artist who has worked for Dreamworks Animation, Paramount, and Netflix among others. He is also a comics author and illustrator, having created his own shorts and projects for French publishers.
Praise For…
---
"In this lively and vibrant graphic novel, several stories are intertwined: the discovery of African-American culture, an account of the USA of Bush Jr, Obama and Trump, and also, as a guiding thread, a glimpse of Scott-Heron's work thanks to a series of close-ups of his key songs. Against all odds, thanks to these interlinked narratives, this story of a missed meeting, altogether artistic, social and political, is breath-taking." Vincent Brunner, Les Inrocks

"Gil Scott-Heron is one of the all time greats and his story deserves to be heard/read by everyone" Scroobius Pip

"A soulful and heartfelt representation of a man's life, love, and music. An original and creative work of art about one of the most original and creative artists of our time." Comic Crusaders

"Something I am totally in love with is 'In Search of Gil Scott Heron' ... I think it's fantastic!" Craig Charles, BBC Radio 6

"...anyone who loves Heron's work as much as Mauceri is likely to appreciate his quest and his insight." Slings and Arrows

"In Search of Gil Scott-Heron is a powerful, personal take on the life of a man, musician and trailblazer through the eyes of a young filmmaker who's search for his idol goes unrewarded." Comicon.com

"Realised through detailed panels and intimate story-telling, In Search of Gil Scott-Heron traces the legacy of Heron's work, the challenges of his personal life and the unshakeable connection between Maucéri and Heron's art." The Vinyl Factory