Quote, Bind, Sell, Repeat!: Mastering the art of property & casualty insurance (Paperback)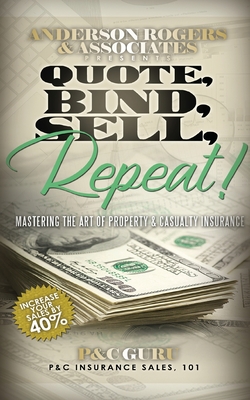 $18.15

At Distributor - We Can Usually Get It in 3-8 Days!
Description
---
I ventured into the insurance industry by accident. I can remember the exact moment it happened. It was 2012 and I recently closed my night club after 12 long years of dealing with everything that came with the nightlife. Bar fights, alcohol liabilities, competition, law enforcement, etc. The money was awesome, but it did come with a price. My days often begun at 3:00 pm and ended at 6:00 am. I loved dealing with people on an everyday basis, but the life had taken its toll on me. I needed a change.
I befriended a club DJ who was from Brooklyn, New York. Ironically, our stories were kind of similar he had just left the housing industry as an inspector and was Deejaying part time until he could get back into a successful trade industry. He mentioned a P&C insurance class he had signed up for and suggested I give it a try as well.
My first response was. "Insurance, man I can't stand insurance, that stuff is boring and what is P&C?" He went on to say that he knew of a few insurance agents that were making six figure incomes and a P&C Insurance license was all that was required to start writing business and P&C stood for property & casualty. That sparked my interest so I agreed to sign up for the class, what could it hurt.
Four 10-hour days of P & C insurance information was overwhelming to say the lease. How could someone learn all of this in this small amount of time, study for the test, take the state exam and expect to pass; it seemed IMPOSSIBLE.
Until I turned it into a 7-million-dollar business in just 4 years.