Opening2Intuition Starter Audio-CD (CD-Audio)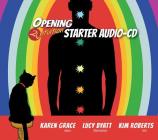 $14.99

Special Order - Arrival Times Vary
Description
---
Opening2Intuition Starter Audio-CD provides a guided journey into psychic development. On the CD you will learn all the basics of psychic development. You will learn how to open up, how to protect yourself, how to create sacred space, psychic protection, grounding and closing down. Then you will be taken deeper on two guided visualizations, one to meet your spirit guides and one to discover your past lives. The CD has been specifically designed using sacred sounds that help to open chakras and enhance psychic development.
About the Author
---
Kim Roberts is a psychic clairvoyant and reiki master with 18 years experience. She facilitates psychic development workshops and works with celebrity psychic Michele Knight. She holds a BA (Hons) in English and Psychology and works with Nick Twilley in developing her shamanic knowledge.

Lucy Byatt's expertise in the field of psychic art and mediumship spans more than 20 years. She holds a first class honors degree in Fine Art from Goldsmiths College and an MA in Sculpture. In addition to teaching psychic art, she facilitates the development of autistic children.

Karen Grace is a psychic, tarot reader, Reiki master, healer, yoga teacher and award winning songwriter with a Master's Degree in singing. She has been involved in the healing and musical arts for over 30 years and continues to facilitate healing and self-expression for others. She is currently the proprietor of Sacred Life in the Byron Bay (Australia) hinterland.