Back and Neck Health: Mayo Clinic Guide to Treating and Preventing Back and Neck Pain (Paperback)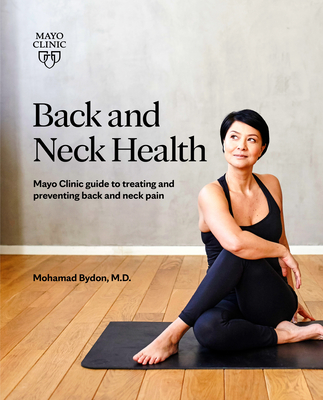 $19.95

At Distributor - We Can Usually Get It in 3-8 Days!
Description
---
The spine is one of the most important parts of the human body. And yet, studies suggest that, along with back pain, 10% to 30% of the adult population is impaired by neck pain, with seemingly minimal treatment options available.

If left untreated, back and neck pain can cause chronic discomfort while sitting, standing, and performing other daily activities. A study published in 2020 by the Journal of the American Medical Association found that low back pain and neck pain accounted for the highest amounts of spending by both private and public insurers. In fact, studies have found that back injury is the most common cause of job-related disability and is a leading contributor to missed days of work. However, many cases of back and neck pain can go undiagnosed and undertreated, leaving the patient to suffer in silence.

In the Mayo Clinic book Back and Neck Health, acclaimed neurosurgeon Mohamad Bydon, M.D., evaluates the primary back and neck conditions plaguing working adults today and identifies everyday actions that may exacerbate the pain. The book also outlines the variety of treatment options available to those living with chronic back and neck pain, including home treatments, physical therapy, interventional approaches, and different types of surgery. Finally, Dr. Bydon reviews specific lifestyle changes that can help patients improve and maintain good back and neck health as they age.

The book is organized as follows:
Introduction

Part 1: Understanding your back and neck

Chapter 1: Your spine

Chapter 2: Back and neck pain

Chapter 3: Common back problems

Chapter 4: Common neck problems

Part 2: Relieving your pain

Chapter 5: Identifying the problem

Chapter 6: Home treatment

Chapter 7: Physical therapy

Chapter 8: Nonsurgical interventions

Chapter 9: Surgery

Chapter 10: Living well


About the Author
---
Mohamad Bydon, M.D., is a professor of Neurosurgery, Orthopedic Surgery, and Health Services Research at Mayo Clinic College of Medicine and Science in Rochester, Minn. As a neurosurgeon, he specializes in the areas of complex spine surgery, spinal oncology, and minimally invasive spine surgery. After graduating from Dartmouth College and Yale University School of Medicine, Dr. Bydon completed his medical residency and a clinical fellowship at Johns Hopkins Hospital. In addition to his work as a neurosurgeon at Mayo Clinic, for which he has received honors for his exceptional delivery of patient care, Dr. Bydon also serves as Assistant Dean of Education in the Mayo Clinic College of Medicine and Science and Medical Director of the Mayo Clinic Enterprise Registry, a real-time patient safety and outcome platform that integrates data from Mayo Clinic's hospitals and clinics nationwide. Dr. Bydon is also the principal investigator of the Mayo Clinic Neuro-Informatics Laboratory, where he leads a team dedicated to advancing neurologic patient care and safety. Dr. Bydon has authored more than 250 peer-reviewed manuscripts and is currently the editor-in-chief of the International Journal of Neuroscience. Dr. Bydon currently sits on the executive boards of three national neurosurgical societies.