100 Children's Books that Inspire Our World (Hardcover)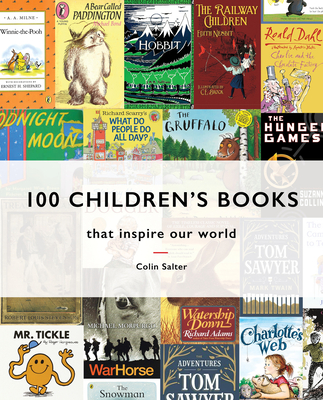 $29.95

Special Order - Arrival Times Vary
Description
---
The most beloved, original, inspiring, heartwarming, compelling, and downright scary books that have enchanted children the world over.

Author Colin Salter brings together an exceptional collection of truly groundbreaking children's books--from Mark Twain's Tom Sawyer to the graphic novels of Dr. Seuss. All the classic children's authors are represented with one standout book, plus mentions for their best-known works.

Entries include: Alice in Wonderland, Treasure Island, Charlotte's Web, A Series of Unfortunate Events, Matilda, Watership Down, Tales of Hans Christian Andersen, Grimm's Fairy Tales, Peter Pan, A Bear Called Paddington, The Snowman, The Secret Garden, How to Train Your Dragon, Anne of Green Gables, Harry Potter, James and the Giant Peach, The Gruffalo, Mr. Men, Coraline, Hergé's Adventures of Tintin, The Curious Incident of the Dog in the Night-Time, Finn Family Moomintroll, Swiss Family Robinson, Heidi, The Hobbit, The Red Balloon, The Jungle Book, Mary Poppins, The Tale of Peter Rabbit, His Dark Materials, The Railway Children, Noddy, The House at Pooh Corner, The Sheep-Pig, Stig of the Dump, Fungus the Bogeyman, Nancy Drew, The Hardy Boys, The Secret Seven, The Famous Five, Black Beauty, The Diary of a Young Girl, The Boy in the Striped Pyjamas, Artemis Fowl, and many more who lived happily ever after..
About the Author
---
Colin Salter is the coauthor of 100 Books That Changed the World and author of 100 Letters That Changed the World and 100 Speeches That Changed the World. He is a history and science writer with a fascination for how things work, and how they used to work. He has written about almost everything, including the private lives of marine gastropods.