Moving (Paperback)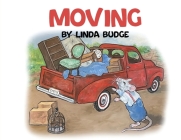 $15.59

At Distributor - We Can Usually Get It in 3-8 Days!
Description
---
Walter, a mouse, has decided to move, determined to hang his hat in a new location. Realizing how difficult moving can be, he approaches his friends for their advise. However, their opinions may not always prove to be the best. Walter finds himself in a precarious position with his arc enemy, the Cat. When things are looking very bleak, he discovers that he has nowhere to go. The ending will surprise you.
Linda Budge, award winning animal artist, has had paintings accepted into national and international art shows. You may have seen her artwork on magazine covers, limited edition prints, calendars, and greeting cards. Linda is a signature member of the Society of Animal Artists and Artists for Conservation. For more details, see Lindabudge.com "